Last Updated on September 13, 2023 by Erik Sullivan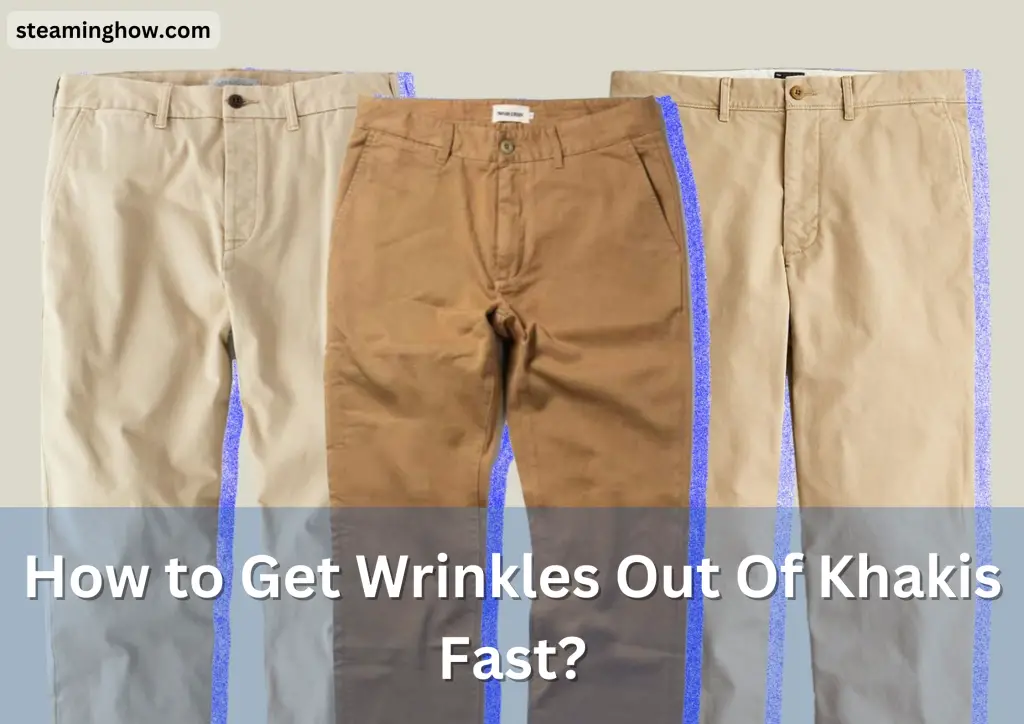 Khakis are go-to pants for many guys. Because they're more fashionably versatile and comfortable than other casual trousers. In fact, they're an easy way to upgrade your style and class during the warmer months.
However, the biggest downfall of khakis is that they can develop wrinkles in them more quickly than other casual dresses. Because, they're usually made of cotton, and wool fabric which are prone to wrinkle. When they get wrinkled, they look really worse.
If you're looking for answer how to get wrinkles out of khakis fast or without ironing, this article will help you to do that correctly.
Scroll down to learn more!
Table of Contents
How to Get Wrinkles Out Of Khakis? (5 Most Effective Methods)
We've compiled some effective methods and hacks that can help you remove wrinkles from your khaki pants.
Using A Clothes Steamer to Unwrinkle Your Khaki Fast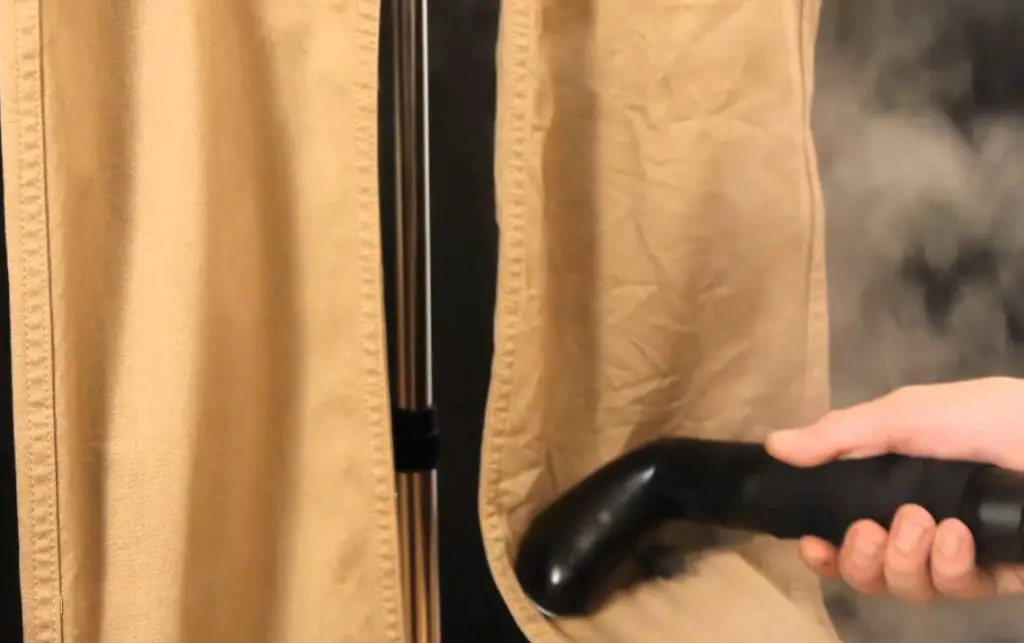 This is one of the best ways to get wrinkles out of khakis. It'll help you to save some time and effort when dealing with those stubborn creases.
Steps:
Step 1: Hang your khaki pant on a clamp hanger.
Step 2: Pour some distilled water into the water reservoir.
Step 3: Let it heated up to produce steam.
Step 4: Select the steam setting according to the fabric type.
Step 5: Stretch the pants in the bottom.
Step 6: Press the steamer nozzle against the fabric.
Step 7: Apply steam from the top to the bottom of your pant.
Step 8: Repeat the process until all the wrinkles are gone.
Hanging Khakis in A Steamy Bathroom
If your khakis is moderately wrinkled, then you can apply this old school method to remove them in no time. The heat & humidity produced by the shower steam helps the fiber to relax and get back to its original shape by almost 90%. Here's the process: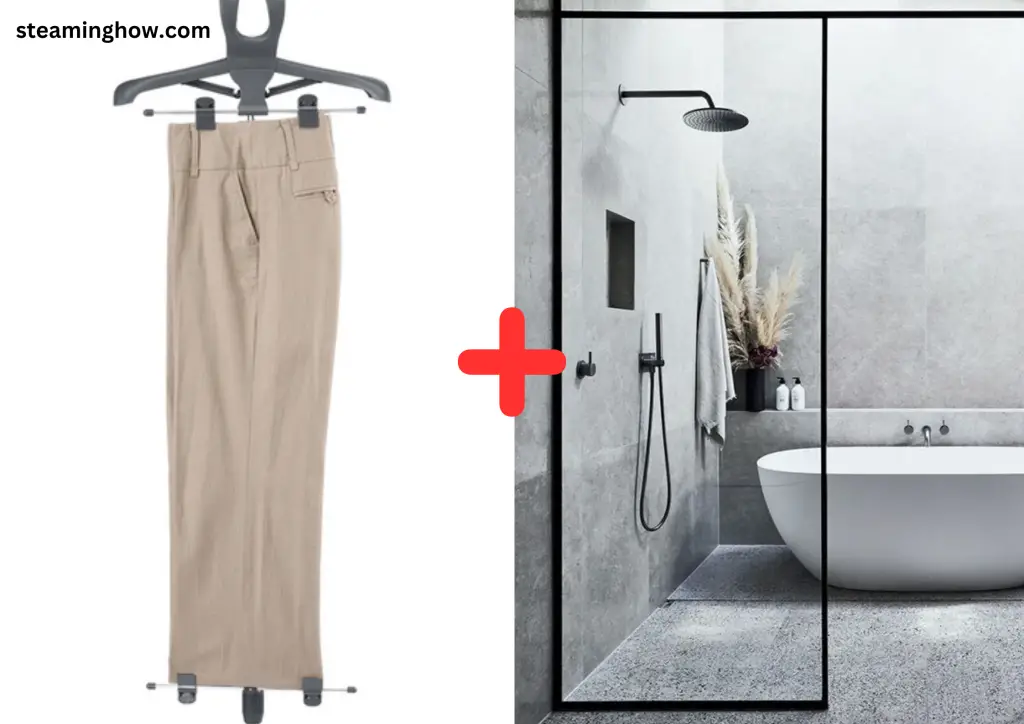 Hang your khakis in the bathroom.
Make sure that the bathroom door is close properly.
Turn on the shower and let it run for about 15-20 minutes. (The steaming time heavily depends on the size of your bathroom.)
Take the khakis down and put them on a hanger to air dry.
Apply Hot Air From a Hair Dryer or Blow Dryer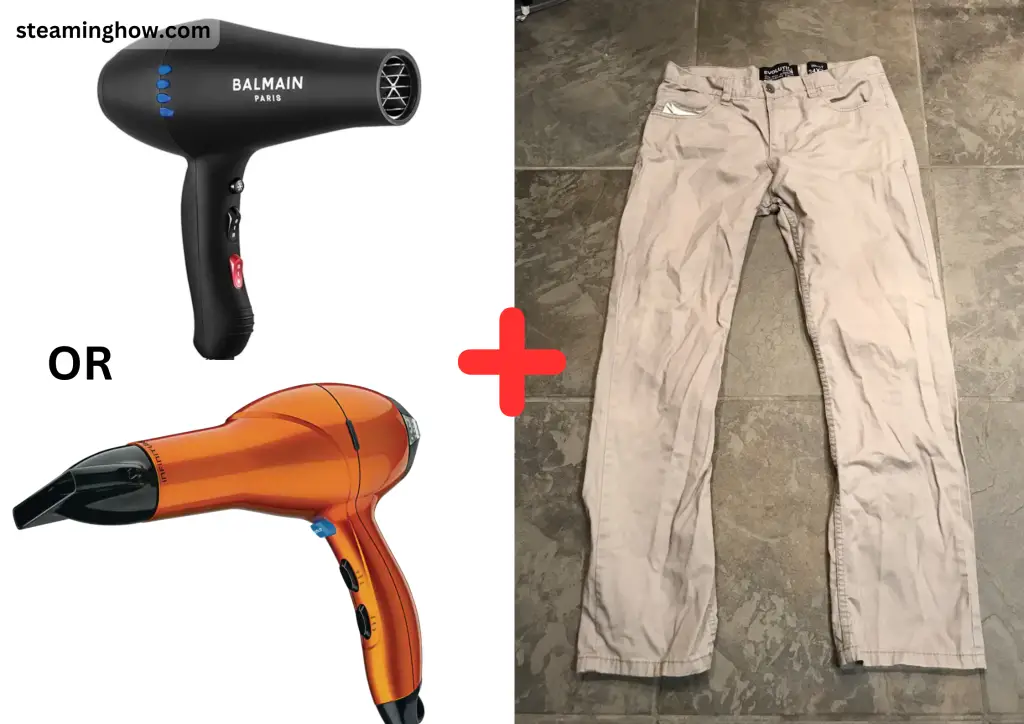 You can use a hair dryer or a blow dryer to remove wrinkles from your favorite khakis. The process is very simple but effective against wrinkles and creases of your garment.
Hang your khaki pants in a clothesline. Use clothespin to hang them more securely. Sprinkle some water in your pants, especially over the wrinkled areas.
Next, hold the hair dryer a few inches away from the fabric. Select the highest setting to remove big wrinkles. Turn on the hair dryer and let the hot air hit the wrinkles to remove them.
Use Professional Wrinkles Release Spray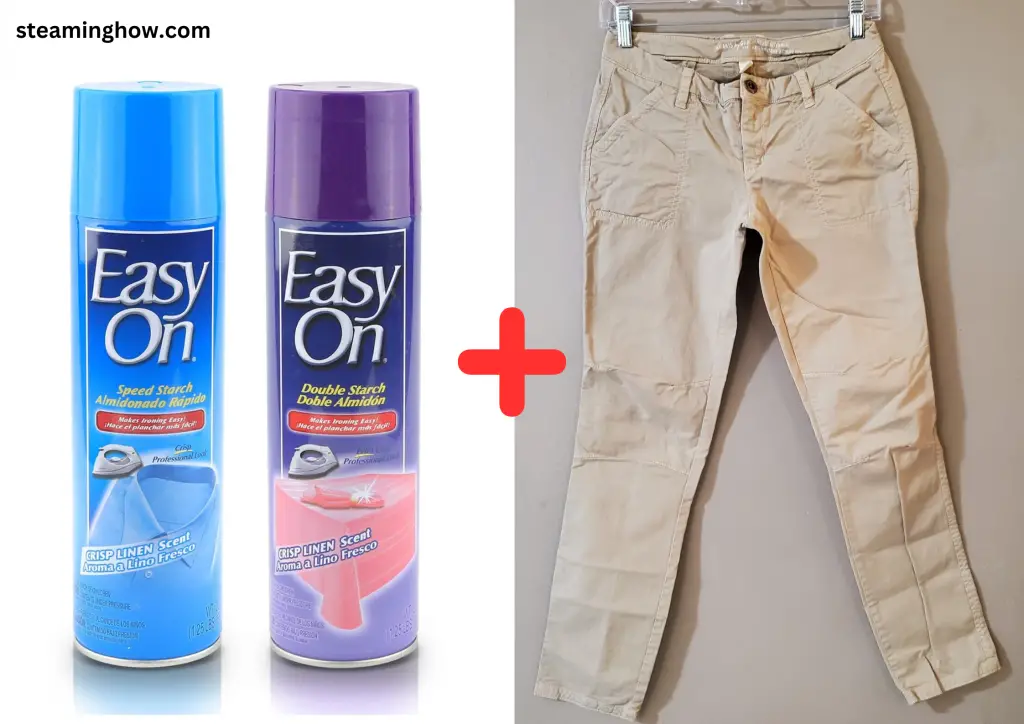 There are many professional sprays available now in the market that work surprisingly well to smooth out wrinkles and creases from your khaki. These often contain fabric softener to help relax the fibers.
First, you need to spray the wrinkles releaser onto your wrinkled pant. Make sure the khaki pant is lightly damp after spraying. Next, pull out the fabric with your hand until the wrinkle release.
How to remove wrinkles from khakis without an iron?
If you're like me who doesn't like ironing clothes, this method is for you. It's one of the most efficient way to remove wrinkles from your cotton khakis. You'll need some ice cubes and a dryer.
First, place your wrinkled khakis into the dryer and add some ice cubes with it. Next, set your dryer on high and leave it for 5 minutes. Remove the cloth from the dryer and it'll be wrinkle free. It works like a magic!
Can Khaki be Ironed?
Yes, khaki can be ironed to remove wrinkles and creases out of it. But, we suggest to follow the manufacturer recommendation first. If they say YES, then you can apply ironing. Khakis are often made of cotton fabric. So, you should select the lowest heat setting. You can use special ironing board for khaki pant like this one.
Final Words
Taking good care of your favorite khaki pant doesn't just ensure its longer lifespan, but also help increase your personality in any occasion. Therefore, removing wrinkles should be your top priority.
I hope you've got enough information on how to get wrinkles out of khakis. You can try any one from the above method to remove wrinkles successfully from your khaki pant. Especially, the steamer method which is our most favorite.
FAQ
Can I use an iron to remove wrinkles from khakis?
Yes, using an iron with a medium heat setting and steam can effectively remove wrinkles from khakis. Make sure to iron inside out to avoid direct heat on the fabric.
How can I prevent wrinkles in khakis when storing them?
To prevent wrinkles in khakis, hang them on sturdy hangers in the closet. Avoid overcrowding the closet, which can cause the fabric to fold and crease. Additionally, consider folding khakis along the seams when packing them for travel to minimize wrinkles.
Can I use a fabric softener to prevent wrinkles in khakis?
Using a fabric softener in the wash can help khakis come out of the laundry cycle with fewer wrinkles. Softened fibers are less likely to crease. Follow the instructions on the fabric softener bottle for the appropriate amount to use.
How long does it take to remove wrinkles from khakis using a steamer?
The time it takes to remove wrinkles using a steamer depends on the severity of the wrinkles and the steamer's power. On average, it might take 5-10 minutes per pair of khakis for moderate wrinkles.
Related Posts