Last Updated on November 16, 2023 by Erik Sullivan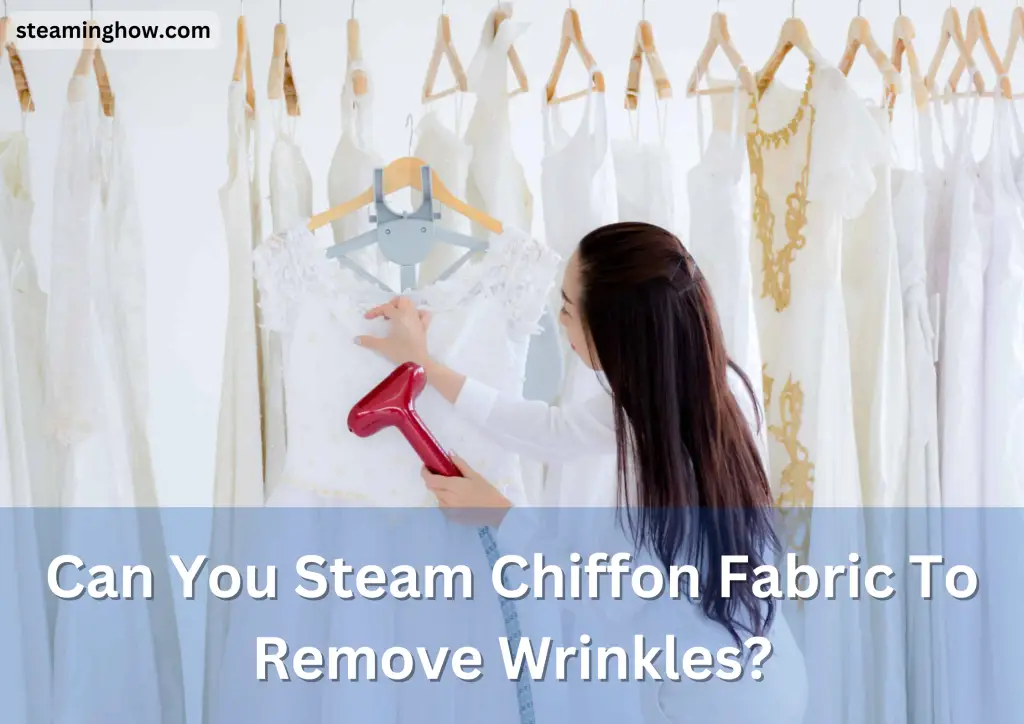 Chiffon is a luxurious fabric that is popular for its softness and feminine feel. It is often used for making special occasion dresses, such as formal gowns or bridesmaids dresses.
It is a light and airy fabric, which makes it susceptible to wrinkles. Although, it's a very common issue of most delicate fabrics.
Can you steam chiffon to get rid of those unwanted wrinkles?
Yes, you can. But, you need to be very careful. The heat from the steamer can easily damage the delicate fabric if you don't follow the best practices. Follow our expert guide to steam your chiffon fabric effectively and efficiently.
Table of Contents
Why Does Chiffon Wrinkle?
As you know that chiffon is one of the most delicate garments in the world. When this fabric is folded or stored in a way that doesn't allow it to breathe, it can cause the fabric to wrinkle.
Another reason that causes the chiffon to wrinkle is its exposure to heat. Especially, if your chiffon is made from natural fibers like silk or cotton as they tend to shrink. And when they shrink, they wrinkle. It's simple.
How to Steam Chiffon With a Handheld Garment Steamer? (Step by Step)
Steaming chiffon is one of the most effective and also the safest ways to get wrinkles out of it. Before steaming you'll need to gather a few tools:
Tools Required:
A handheld steamer
Distilled water
Hanger
Now follow the steps below:
Step one: Hang your chiffon drees on a hanger
Before you get started use a hanger to hang the dress. This will prevent your dress slipping over while steaming. This also allows you apply the steam evenly and quickly.
Step two: Select a Handheld steamer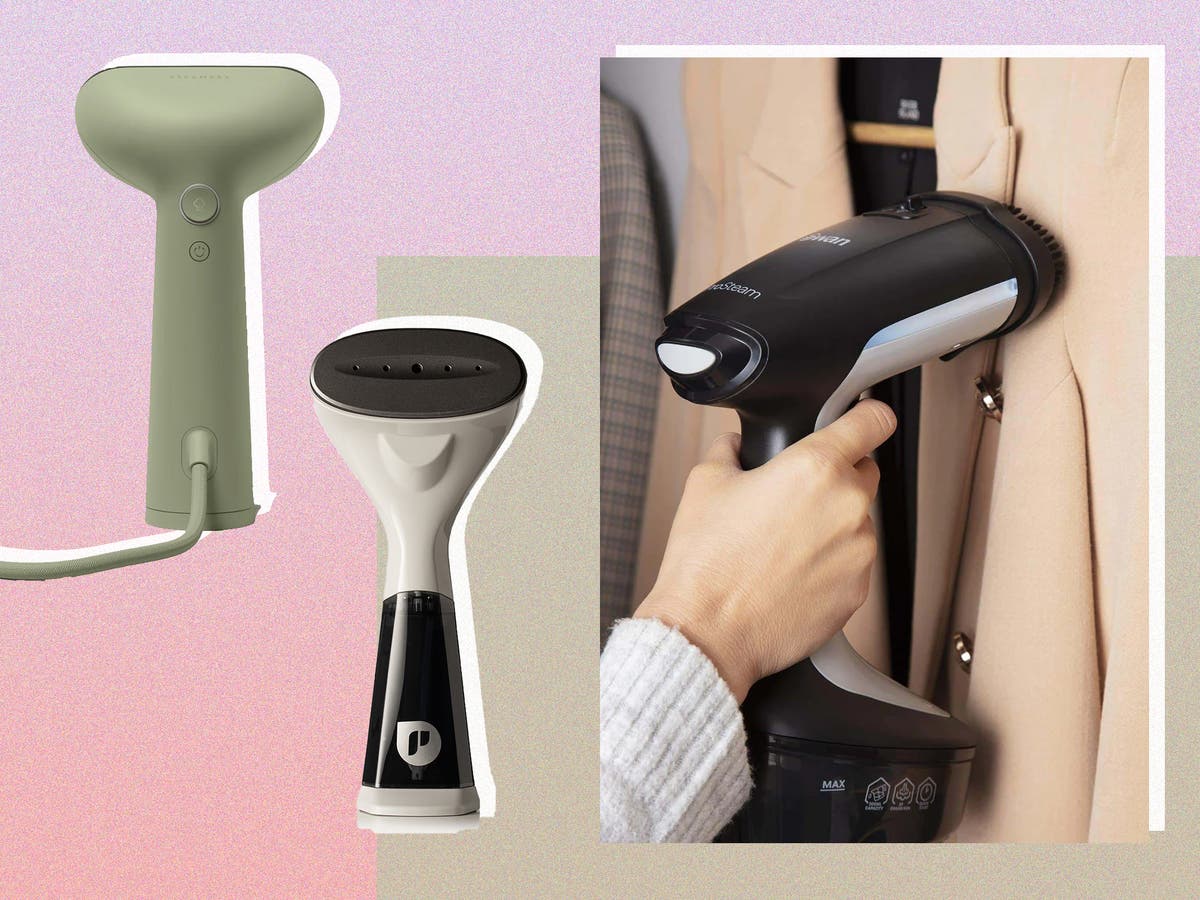 We recommend to steam with a handheld garment steamer. A handheld steamer lets you easily control the amount of steam that is applied to the fabric.
Step three: Fill the steamer tank with distilled water
Put distilled water (recommended level) into the steamer tank. Distilled water prevents any kind of mineral buildup inside the tank.
Step four: Turn on the Power Button
Now that your steamer tank is full of water, it's time to turn on the machine. Let it heated up fully to produce steam. Usually it can take a couple of minutes.
Step five: Select the most appropriate steam setting and Apply the steam
Take the steamer in your hand and select the lowest steam setting. You can start applying the steam from the very top of the chiffon. And gradually go down. Don't forget to steam hard areas, like-under the sleeves.
Some professional recommend to apply the steam from the inner parts of your cloth. You can follow this hack because it allows you to get creases out of the dress more efficiently.
Step Six: Dry The Cloth
This is the final steps of removing wrinkles from your chiffon cloth. Let your dress air dry by using a fan or a hair dryer.
How Do You Get Wrinkles Out of Polyester Chiffon Without an Iron?
So, you don't have any iron or steamer available in your home but you want to remove wrinkles from your chiffon. Is that possible?
Yes. You can do that by using a blow dryer.
Before using it on your fabric, sprinkle some water over the dress. This will smoothen the fabric.
Next, place the cloth on a hanger. Now, pull the wrinkled area with your hand. Select the lowest air flow setting of your blow dryer and let the air blow towards the wrinkles. Continue the process until the wrinkles vanish.
The moisture and the dry air will remove creases from your chiffon dress in no time.
Frequently Asked Questions
Can You Steam a Bridesmaid Dress?
Yes, you can steam a bridesmaid dress to remove wrinkles. However, you should be very careful not to get the dress too wet. Use a garment steamer and select low steam setting to avoid any damage of the delicate fabric. It'll be best to ask the alterations about steaming your bridal dress. (Follow our step by step guide on how to steam wedding dress)
Can You Iron Chiffon?
You can iron chiffon, but you need to be extremely careful not to overheat it. Chiffon is a delicate fabric, so you'll need to use a low heat setting on your iron. You should also Iron chiffon on the inner side, using a pressing cloth to protect the fabric from the heat of the iron. However, you can use a steam iron instead of a dry iron to remove wrinkles from chiffon without any damage.
Can You Put Chiffon in the Dryer?
You should never put chiffon in the dryer. The heat can damage the fabric and cause it to shrink. If you need to dry your chiffon garment, hang it up to air dry.
Does Polyester Chiffon Wrinkle?
Yes, It does wrinkle if it's folded away for a long time. However, unlike natural fabrics like cotton or silk, polyester chiffon does not wrinkle easily.
Can steaming chiffon fabric cause shrinkage or damage to embellishments?
Excessive steam or prolonged exposure might cause shrinkage or damage to delicate embellishments like sequins or beads on chiffon fabric. Direct the steam away from such areas or use extra caution around them.
Can I combine other methods with steaming to remove wrinkles from chiffon fabric?
Combining steaming with a light ironing on the lowest setting or using a handheld fabric steamer can help achieve smoother results for stubborn wrinkles on chiffon fabric. Always test in an inconspicuous area first.
Conclusion
In conclusion, while steaming chiffon fabric to remove wrinkles may seem tempting, it's crucial to exercise caution due to the delicate nature of this material. Chiffon is typically sensitive to heat and moisture, making it prone to damage or stretching when exposed to steam.
Instead of using a steamer directly on chiffon, consider utilizing alternative methods like a handheld fabric steamer on the lowest setting, keeping the steamer at a safe distance from the fabric and using a pressing cloth as a barrier.
Alternatively, hanging the garment in a steamy bathroom or employing a fabric-specific wrinkle-release spray might be gentler options for removing wrinkles from chiffon without risking damage. Prioritizing careful and minimal exposure to steam ensures the preservation of the fabric's delicate structure and appearance.
Related Posts