Last Updated on July 24, 2023 by Erik Sullivan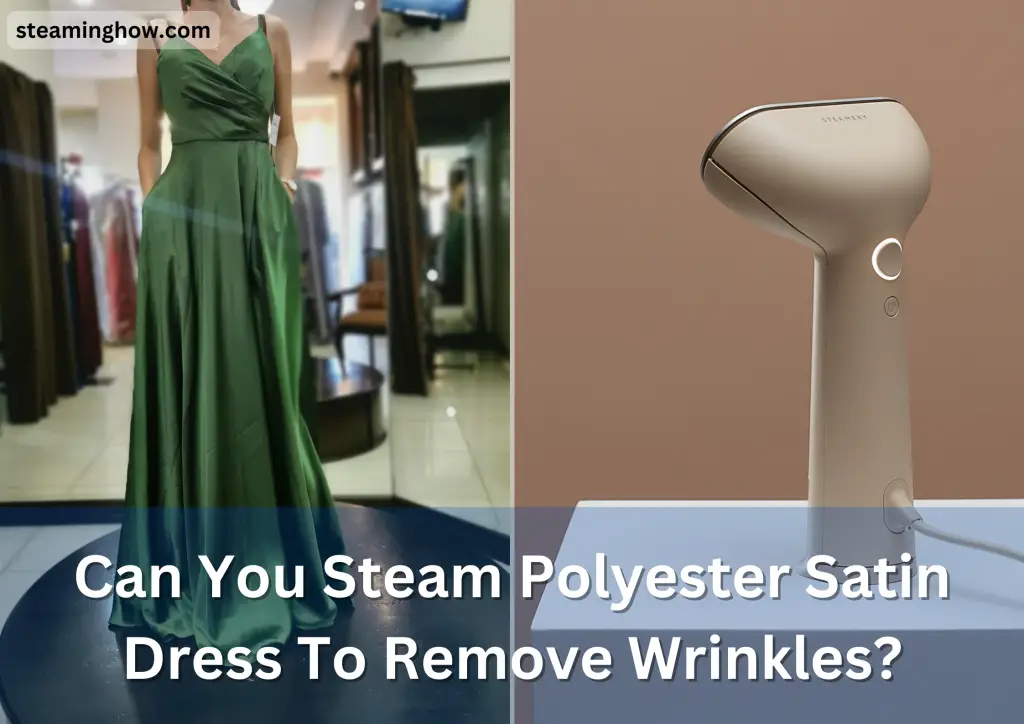 Polyester satin has a glossy finish with a soft feel. It's often used for clothing, bedding, and home furnishing.
However it's very sensitive to heat since, it's made of plastic. Therefore, it can be difficult to iron.
People often ask me – can you steam polyester satin without damaging the fabric?
The answer is yes, you can steam polyester satin. It's 100% safe. However, you need to be careful not to over-steam the fabric, as this can cause it to burn. The best way to steam polyester satin is to use a steamer with the lowest setting. Make sure to hold the steamer about 6 inches away from the fabric to avoid damaging it.
Also Read: Can You Steam Chiffon Fabric To Remove Wrinkles?
Table of Contents
What is Polyester Satin Fabric?
Polyester satin is a highly lustrous, smooth fabric with a soft hand. This is often used in eveningwear or bridal gowns. It has a smooth, shiny surface and is usually made from a blend of polyester, cotton or even silk. The satin is highly adorable for being durable, wrinkle resistant, and easy to maintain.
How Do You Steam A Polyester Satin Dress?
What You'll Need:
A cloth steamer (Handheld is preferable)
A hanger
Distilled Water
Clothespins (Prevent burning of your fingers)
Step By Step Process:
Step 1 – Select a Well Ventilated Room
Before you start steaming your dress it's important to select a well-lighted room to do the job more efficiently. Avoid steamy bathrooms as the humidity will make it difficult to see your dress while steaming.
Step 2 – Hang up the Polyester Dress
You will need to find a hanger that can accommodate your dress. If possible, use a padded hanger or one that is designed specifically for dresses. This will help to protect the fabric from snagging or stretching as you steam.
Step 3– Add water to the Tank
Fill your steamer with water according to the manufacturer's instructions. Most of the manufacturer suggest using distilled water as it contains no minerals in it. Avoid using tap water in your clothes steamer as it can cause mineral buildup.
Step 4 – Plug the steamer in and Let it heat up
Once you have your hanger and dress ready, it is time to let your steamer heat up completely. Depending on the model that you have, this could take a few minutes.
Step 5- Select the most suitable steam setting (if available)
Next select the best steam setting for your dress to avoid any damage. Since, you're dealing with a delicate fabric, you must be extra careful.
Step 6- Start applying steam from a certain distance
Hold the steamer with your right hand about a few inches away from the dress. And hold the clothespins with your left hand. Now, clip the clothespins to the dress and start applying the steam by moving the steamer back and forth.
To prevent water droplets from falling on the dress, make sure to keep the steamer moving. For the best result, start by steaming section by sections of the dress. Run your machine up and down slowly. Repeat this process until you steam the full dress.
What's the Best Steam Setting For a Polyester?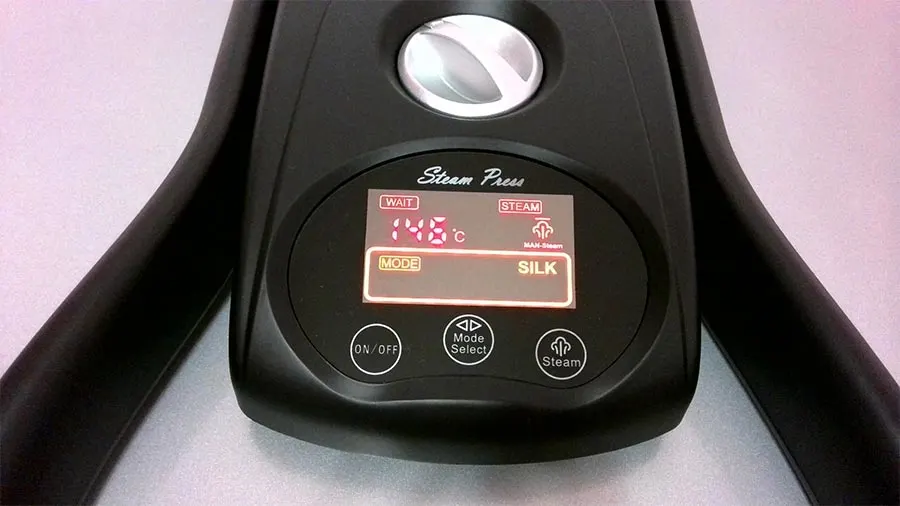 When it comes to steam settings for polyester, the general rule of thumb is to use the lowest setting possible. This is because polyester is a synthetic fabric and can be easily damaged by higher temperatures.
In fact, even the lowest heat setting on a steamer can sometimes be too hot for polyester, so it's always best to err on the side of caution.
There're some clothe steamer available those feature various steam settings for delicate to heavy garments. You should follow the user manual that comes with the steamer.
Ironing Vs Steaming: Which One is Safer For Polyester Satin?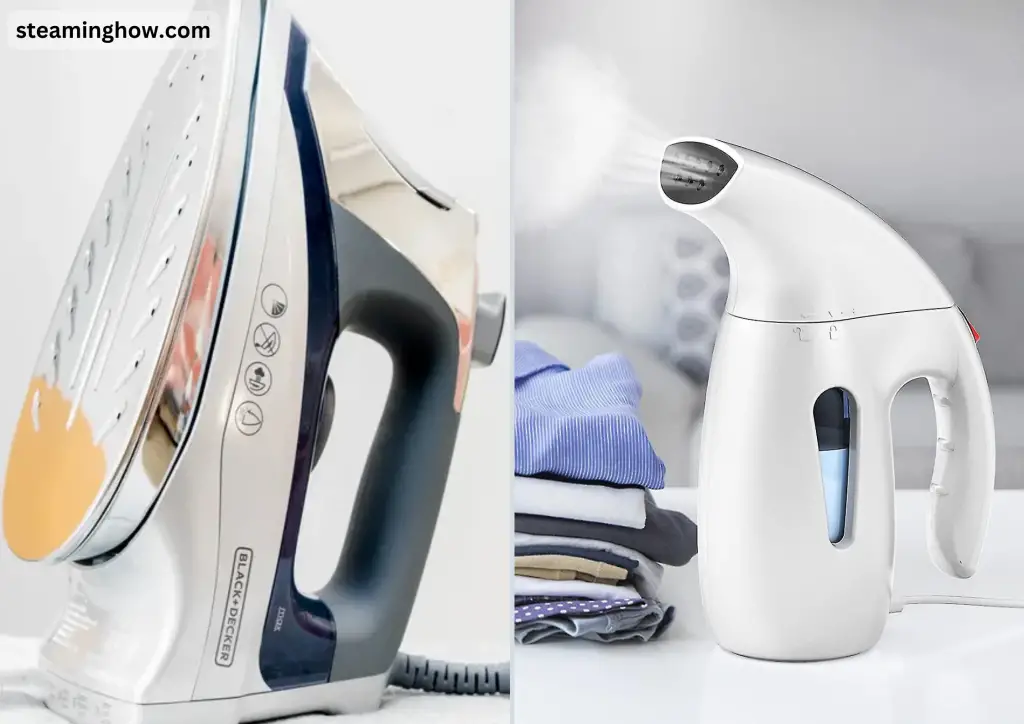 Polyester satin can be ironed and steamed. However, the safest way to remove wrinkles from polyester satin is using a steamer.
Steaming is a gentler method than ironing and it will not damage the fabric. Why, because a steamer never come contact with the fabric directly. It just release hot steam from a certain distance to loosen fibers and remove wrinkles.
On the flip side, an iron must come into direct contact with the fabric to work. There is a higher possibility of burning your garment if you select wrong setting. Therefore, it's not suitable for delicate surfaces like polyester satin or silk.
If you need to iron a polyester satin there are a few things that you must follow to prevent damaging the fabric.
First of all, set the iron to the lowest heat setting.
Then, flip the polyester right side down because you can only iron the inner side of this fabric. Next place a pressing cloth or a kitchen towel between the iron and the polyester dress to protect the fabric from direct contact with the iron plate.
Now, you can safely use the iron over the pressing cloth. After completing the process, don't forget to hang the cloth to prevent further wrinkles.
How to Get Wrinkles Out of Polyester Without An Iron Or Steamer?
You don't even need a steamer or an iron to get wrinkles out of polyester satin. There are a few simple hacks that you can follow to remove wrinkles from fabrics without any steamer or iron.
Method 1: Using Hair Dryer
You can try using a hair Dryer to get creases out of your polyester fabric. Dampen the cloth with water. Next, run the dryer all over the cloth especially the wrinkled areas
Method 2: Using Hot Pan
This is one of the most traditional method of removing creases from clothe. Place the wrinkled area of the fabric over the hot pan with boiled water and hold it there for a few seconds. The steam from the pan will help to remove the wrinkles.
Pro tip: Never use a hair straightener to de-wrinkle your polyester as its temperature gets super-hot really fast. You can also follow this article to learn how to get wrinkles out of polyester without using an iron. I've included 3 best methods on that article.
Frequently Asked Questions
Can Steam Ruin Polyester?
The answer could be yes or no. Steaming is the easiest and the safest ways to remove wrinkles and creases from the polyester clothes. However, using too much hot steam can damage the polyester as it is heat sensitive. Generally, it's best to use a lower temperature setting when steaming polyester.
Can You Steam Polyester Silk?
Yes, you can steam polyester silk to remove creases. Just be careful not to use too much hot steam, as this can damage the fabric. Polyester silk is a delicate fabric, so it's important to take proper care of it when steaming.
Should I Dry Polyester Clothes After Steaming?
Yes. You should always dry polyester clothes after steaming. Drying removes any remaining water from the fabric. This also helps to set the shape of the garment. You can hang the fabric on a hanger to air dry or use a ceiling fan for faster drying.
Should I use a pressing cloth when steaming a polyester satin dress?
Using a pressing cloth, like a clean cotton or muslin fabric, between the steamer and the polyester satin dress is advisable. This provides an extra layer of protection and prevents direct exposure to steam.
How long does it take for a polyester satin dress to dry after steaming?
Polyester satin fabric typically dries relatively quickly after steaming due to its synthetic nature. However, drying time may vary based on environmental conditions.
Are there any risks associated with steaming a polyester satin dress?
While steaming is generally safe for polyester satin, excessive heat or prolonged exposure to steam could damage the fabric or cause water spots. It's essential to use the steamer at a safe distance and with caution.
Conclusion
In summary, steaming a polyester satin dress can be a viable method to eliminate wrinkles, but it requires careful handling due to the delicate nature of satin fabric. Polyester satin is sensitive to heat, and direct exposure to steam can cause damage or alteration of the fabric's texture.
To safely steam a polyester satin dress, consider using a handheld steamer on the lowest heat setting and maintaining a distance from the fabric, ensuring no direct contact with the steam.
Alternatively, hanging the garment in a steamy bathroom or using a fabric-specific wrinkle-release spray might offer a safer approach to gently remove wrinkles without risking damage to the delicate satin fibers. Prioritizing caution and minimal exposure to steam helps preserve the satin's sheen and structure, ensuring the dress maintains its elegant appearance.
Related Posts