Last Updated on November 3, 2022 by Erik Sullivan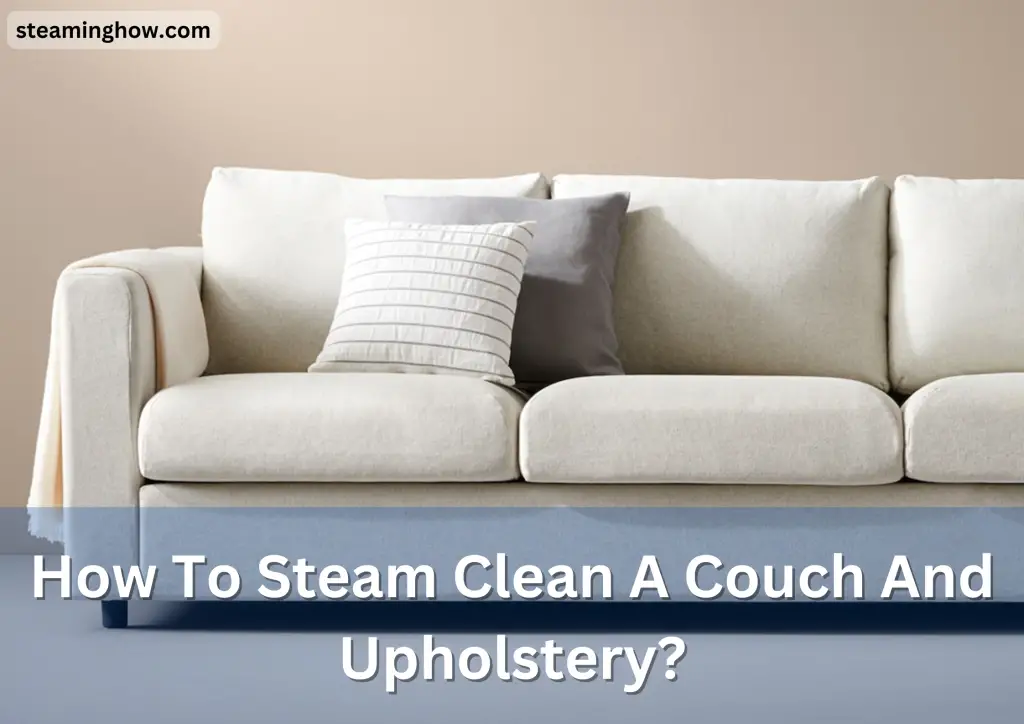 Steam cleaning is one of the best way to deep clean your couches and other upholstery. The process is also cost effective and easy to apply. The high temperature of steam and moisture can efficiently remove deeply set in pet stains, odors, and bacteria from your couch.
In this blog post, I'm going to show you, how to steam clean a couch in a step-by-step process. Besides that, I'll also provide you some pro tips to keep your couches in top condition.
Things to Do Before Steam Cleaning Couch
Before, you begin steam cleaning your couch, you should follow some best practices to get the maximum cleaning result.
Check the Cleaning code for the fabric couch
This is really important to check the cleaning code of the couch before applying any cleaning method. Look at the fabric tag to see if steam cleaning or other water based cleaning method is suitable for your couch. If not, look for alternative cleaning methods.
If you're not familiar with those symbol then, have a look in to the table below:
| | |
| --- | --- |
| W | Must use water based cleaning method to clean |
| S | The fabric should be cleaned with the Solvent or chemical solution. |
| S/W | The fabric can be cleaned with both water based and solvent based cleaning process. |
If your fabric comes with either "W" or "S/W" symbol then you're proceed to steam clean it.
Vacuum Your Couch to Remove Loose Debris
You must vacuum your couch and cushion to remove crumb or other loose debris. This will make it easier to spot clean and steam clean the entire couch. Use a vacuum cleaner with upholstery attachment or a handheld vacuum to get the job done efficiently. Make sure to vacuum all sides and corners of the sofa.
Spot clean harder stains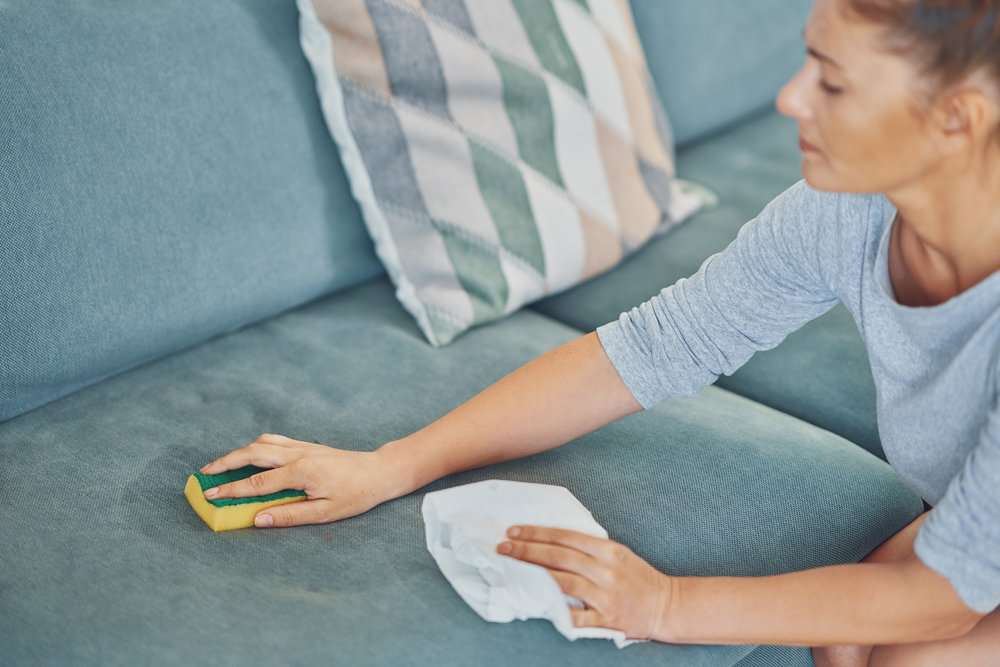 After vacuuming your couch, make sure to spot clean any oil based stains in your couch. Because, steam cleaning can't eliminate them completely. Here's a nice hack to remove oil stains from sofa:
Step 1: Remove any solid materials if the stain is still fresh. Use a spoon for better result.
Step 2: Sprinkle some baking soda over the spot and let it sit there for about 10-15 minutes. It will absorb the excess oil.
Step 3: Use a clean white towel and rub the stain (new/old) with a dry cleaning solvent. The stain should be removed by the end of this step.
If the stains still remain follow the next steps:
Step 4: Mix 1 tbsp of dishwashing detergent and 1 tbsp of white vinegar with 2 cups of water.
Step 5: Apply the solution over the stain.
Step 6: Blot the area with a piece of cloth until the liquid is absorbed.
Precondition the sofa with the proper cleaning agent
Preconditioning your sofa is necessary to emulsify and breakdown soils and spots in your sofa. You can use a portable upholstery cleaner to precondition your sofa with a good fabric shampoo.
Before using any fabric shampoo in your couch, read the manufacturer's guideline to avoid any damage of the fabric.
Selecting the right steam cleaner
Using a right cleaning tool will make your cleaning session more convenient and efficient. Therefore, I always recommend to use an upholstery steam cleaner to steam clean your sofa and couches. These cleaners equipped with special nozzle and attachment for deep cleaning a couch.
Alternatively, you can also use a floor steam mop with upholstery brush attachment to clean your couch.
How to Steam Clean A Couch (Step By Step)
Things you'll need:
You'll need the following supplies to get started:
An upholstery steam cleaner
Step-by-step Instructions
Prepare the steam cleaner
First, you'll need to attach the upholstery tool/brush attachment with the steamer nozzle. You can wrap a microfiber towel around the steamer nozzle to prevent overheating of the couch.
After that, add water into the steamer water tank. Next, plug in the machine and turn it on. Wait for the steam cleaner to produce steam. Always select the low/medium heat setting.
Begin steam clean your couch
Now, you can start the steam cleaning process. Starting from one end, use slow, steady strokes to run the steam cleaner over the entire surface of the couch.
Make sure to scrub your couch from every direction that you can. Use a microfiber cloth to mop up access water after steam cleaning each area.
Do not apply too much steam pressure in any particular area for a long time. Repeat the steam cleaning process as needed to clean heavily stained areas.
Drying your couch after steam cleaning
Allow the couch to dry completely before using it or putting any fabric covers back on. However, you can speed up the drying process by turning on the fan or any space heater. You can also run a dehumidifier to dry your couch. Usually, couches dry around 5-6 hours.
Vacuum last
This is the final stage of steam cleaning a couch. Vacuuming will remove any loosened dirt after steam cleaning and drying your couch.
How do you clean a smelly couch?
Eliminate Bad Smell From Synthetic Couch
If the couch is made of a synthetic fabric such as polyester, then you can try a mixture of white vinegar and water. Spray the mixture onto the couch and let it sit for about 15 minutes. Then, using a wet cloth, wipe down the couch. Finally, dry it off with a towel.
Remove Odors From Natural Fabric Couch
If the couch is made of natural fabric such as cotton or wool, then you can try vacuuming it first to remove any dirt or dust particles.
Then, using a mixture of baking soda and water (about two tablespoons of baking soda for every quart of water), sponge the mixture onto the couch and let it sit for about 15 minutes.
Rinse the area with warm water and sponge it clean. Finally, dry the couch completely.
Conclusion
In conclusion, steam cleaning your couch and upholstery proves to be a transformative solution for maintaining cleanliness and freshness in your living spaces. By harnessing the power of steam, you not only eliminate dirt, stains, and odors effectively but also ensure a safe and chemical-free cleaning process.
The versatility of steam cleaners, with their various attachments, allows you to reach every nook and cranny, revitalizing your furniture with minimal effort. Remember, thorough vacuuming before steam cleaning, testing the steam cleaner on a small, inconspicuous area, and allowing ample drying time are crucial steps to achieve optimal results.
With the right technique and attention to detail, steam cleaning becomes an eco-friendly, efficient method, ensuring your couch and upholstery not only look pristine but also contribute to a healthier and more inviting home environment.
FAQ
What's the best steam cleaner for couch?
The Dupray Neat Steam Cleaner is the best overall steam cleaner for couches and sofa. Because, it's lightweight and easy to use. The machine does a great job in refreshing the couch fibers. It's also a versatile unit with 17-piece accessory that can be used on many other surfaces as well.
Can you use a fabric steamer on a couch?
Definitely, you can use a fabric steamer on a couch. A fabric steamer can produce a high temperature of steam that can eliminate most dirt and dust from the couch cushion. In fact, a fabric steamer is generally more lightweight than a upholstery steam cleaner. So, it's more convenient to use.
Does steam cleaning remove odors from couch?
Yes, steam cleaning can effectively remove odors to refresh your couch. Basically, the high heated steam kills the bacteria that actually cause odors.
How long does it take to steam clean a couch?
It can take anywhere from 30 minutes to an hour to steam clean a couch, depending on the size and fabric type of the couch.
If you're looking for a quick and easy way to clean your couch, using a steam cleaner is definitely the way to go.
Related Posts