Last Updated on November 16, 2023 by Erik Sullivan
Bed bugs is one of the most common problem for many household. This tiny brownish insect can move very fast over various surfaces including your clothes, mattress, ceiling, upholstery etc.
Although they don't spread any diseases but they can cause a lot of skin problems when they bite in your body.
Many people ask, can a clothes steamer kill bed bugs? The simple answer is YES!
A clothes steamer is highly efficient at killing bed bugs from any surface within a very short time. However, you'll need to use a powerful steamer to get the job done efficiently.
Table of Contents
Will A Clothes Steamer Really Effective to Kill Bed Bugs?
Bed bugs are very susceptible to heat and moisture. They get killed instantly when they come in contact with the extreme temperature at around 121°F.
A standard clothes steamer can easily reach up to 200°F which is more than enough to successfully eliminate the bedbugs and their eggs.
A steamer generates intense heat, and high pressure. The heat penetrates bed bugs outer shell and kill them on contact. The pressurized steam destroys the glue-like secretion that cement their eggs in the infested spots.
However, it's important to note that simply running a steamer over your mattress or couches isn't enough to completely eliminate an infestation. You must follow a proper guideline and some best practices for the best result.
How Do You Get Rid of Bed Bugs With a Steamer? (Step by Step)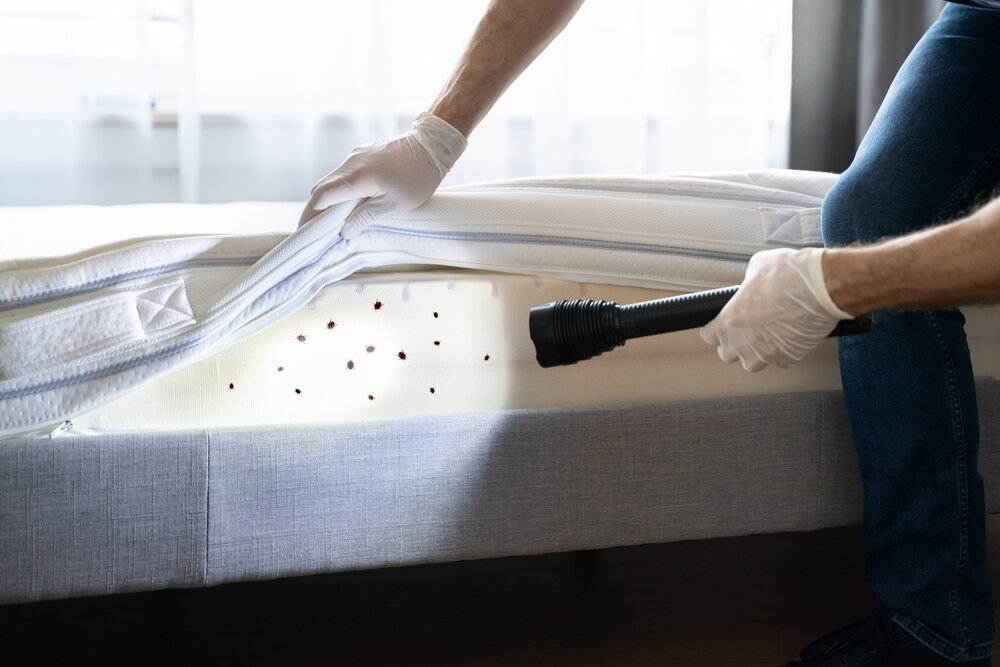 Bed bugs mostly affect the sleeping areas. Like – mattress, box spring, and headboards. But they can also hitch a ride on furniture, luggage, and clothing.
However, to kill the bed bugs effectively from your home, you need to destroy their hotspot like – the mattress or couches.
Follow the step by step process below:
Step 1 – Remove all coverings from your bed and wash them
To use a clothes steamer to kill bed bugs, start by stripping off your bed and removing all the sheets, pillows, duvet covers and blankets. Be sure to wash all of them in hot water setting of your washing machine.
Remember that, washing will only remove the bedbugs, not necessarily kill them.
Once done, dry them on the high heat setting in a clothes dryer for about 30 minutes. This will completely weed out the bed bugs life-stages and their egg hiding in the coverings.
Step 2 – Vacuum your mattress thoroughly
Before steaming your mattress you must vacuum the infested areas thoroughly to remove as many bugs and eggs as possible. Don't forget to empty the dust canister or the dust bag immediately to prevent the bed bugs from escape.
Step 3 – Select a steamer with bigger steam head
To steam clean a mattress, you should use a steamer that comes with a large head to get the job done quickly.
Step 4 – Prepare your clothes steamer for steaming
Now pour some distilled water in to the steamer tank and let it heat up fully. Usually, clothes steamers take about 5 minutes to produce steam.
Step 5 – Steam Your mattress to kill bed bugs
To kill the bed bugs, you will need to use a higher setting on the steamer. Next, using a steamer nozzle jet or head attachment, run the clothes steamer over the mattress, paying close attention to seams, tufts, and folds. You can cover the nozzle with a microfiber towel for an optimum control over the steam.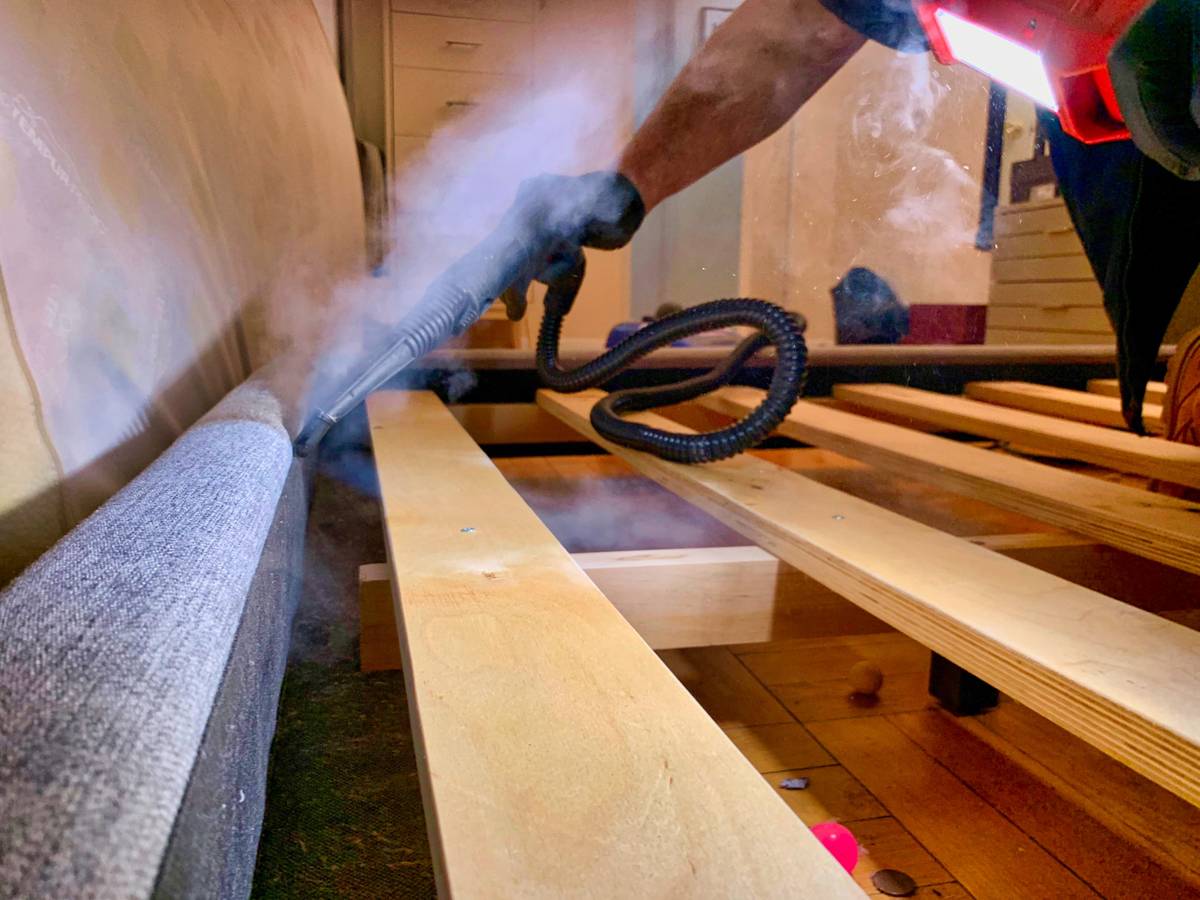 Make sure to hold the steamer close to the surface to ensure that the steam penetrates deep enough to kill the bugs. Move the steamer head slowly (12 inches every 30 seconds) so that the heat can distribute evenly through the surface.
Step 6 – Vacuum once again the entire surface to get rid of the dead bugs
After steam cleaning the mattress, vacuum the area to remove any dead bugs or eggs.
Step 7 – Allow your mattress to dry
Once you're done steaming, set your mattress in a sunny spot to help it dry faster. If possible, prop it up on something so that air can circulate underneath of the mattress.
How to Remove Bed Bugs From Your Clothes?
Usually, bed bugs do not hide on the clothes you're wearing. But, they can live in your closet, cabinets, and drawers stuffed with garments. So, you may have bed bugs in your clothing inside of those items.
Here's one of the most effective ways to kill bed bugs from clothing:
Put all of the infested clothes in a sealed plastic bag so that the bugs can not escape from your laundry room.
Next, carefully transfer your clothes in the dryer and select tumble dry on the highest heat setting. Just double check it reaches 121°F. Run the dryer for at least 30 minutes to kill bed bugs and their eggs. The high temperature will kill the bed bugs.
Wash your clothes in hot water cycle of washing machine. This will manually remove the dead bedbugs. Make sure to read the clothes care label first and select the most appropriate temperature setting for any particular garments.
How To Remove Bed Bugs From Clothes Without Washing Them
If you want to kill bed bugs from clothes that should not be washed in a hot water cycle, then you can apply steam on those items. A stand alone clothes steamer will be very effective to remove bed bugs and their eggs.
You'll need to maintain an optimum steam temperature range (above 120°F) to kill bed bugs without causing any damage of your fabric. Use an infrared thermometer to measure the steam temperature when applying steam. However, we highly recommend to check the fabric label before steaming them.
Can a Hairdryer or Clothes Iron Kill Bed Bugs?
Different insects have different temperature sensitivities, and bedbugs are no exception. As described in a 2018 scientific paper, "the required temperatures for immediate kill of eggs and adult bedbugs of all common species range from 113°F to 126°F (45-52°C)."
A hair dryer, and a clothes iron often work at 140°F and above. So, definitely your hairdryer or clothes iron can kill bedbugs if you apply the heat directly onto them for about 30 second. Unfortunately, these creatures are very good at hiding, so targeted application is difficult.
Heat Treatment vs Steam for Bed Bugs
Heat treatment and steam are two popular methods for treating bed bugs in your beds and upholstery. But which one is more effective?
Heat treatment involves using hot air to kill bed bugs and their eggs. You can use any portable heater or a space heater, or even a hair dryer in this process. But, you'll need to make sure that, it can reach at least 117 degrees Fahrenheit to kill bed bugs successfully.
Heat treatment is considered one of the most effective methods for treating bed bugs from items that can tolerate high heat. However, this process is more costly than steaming.
Steaming is slower than heat treatment. But, it's safer than the later since it's a chemical free process. Many pest management companies have been using this process for many years.
This process involves using hot steam (at least 160 degrees Fahrenheit) to kill bed bugs and their eggs. This method is best for delicate surfaces like your mattress, sofa etc. You can use any household steam cleaner or a clothes steamer in this process.
What's the Best Steamer for Bed Bug Infestation?
When it comes to selecting the best steamer for bed bug, you" need to consider a few factors. These include max steam temperature, the size of the steamer head, and the steaming time.
If you're really serious about removing the bed bugs from your space, you should select a multi-functional steamer. We recommend the PurSteam Garment Steamer which is able to generate steam up to 200 degrees Fahrenheit.
Besides, it has a large steamer head (more than 2 inch), and up to 50 minutes of continuous steaming time. It's also very easy to use and comes at an affordable price tag.
Frequently Asked Questions
How long do you have to steam a bed bug to kill it?
You'll need to steam for about 60 minutes to kill the bed bugs and their eggs.
How hot is steam from a clothes steamer?
It depends on the type and capacity of a clothes steamer. Usually clothes steamer can produce steam about 200 to 400-degrees Fahrenheit.
What temperature kills bed bugs?
According to a study by NCBI, 50 °C or 120 degrees Fahrenheit is the lethal temperature of bed bugs.
What's the best mattress cover that prevent bed bugs?
A mattress cover is an effective way to prevent bed bug infestation in your bed. They are made of tightly woven fabric that the bugs cannot bite through, and they have a zipper closure that prevent the bugs from getting inside.
We highly recommend to use the SafeRest Mattress Protector to prevent the infestation of bed bugs. It will also protect you from dust mites, pet dander, pollen, mold and mildew.
The best thing about this mattress protector is that, you can use it on your firm or pillow top mattress and its machine washable for easy care.
Conclusion
In conclusion, while steamers are effective against bed bugs and their eggs, achieving instantaneous elimination requires specific conditions and thorough treatment. Steamers, when used at the right temperature (above 130°F or 54°C) and applied directly to infested areas for a sustained period, can kill bed bugs on contact.
However, it's crucial to penetrate the steam deep into crevices and seams where bed bugs hide, ensuring prolonged exposure to eradicate both bugs and their eggs. For complete eradication, combining steaming with other bed bug control methods, such as vacuuming, laundering, and using insecticides, provides a more comprehensive approach, ensuring a higher likelihood of eliminating these pests effectively.
Related Posts