Last Updated on November 29, 2023 by Erik Sullivan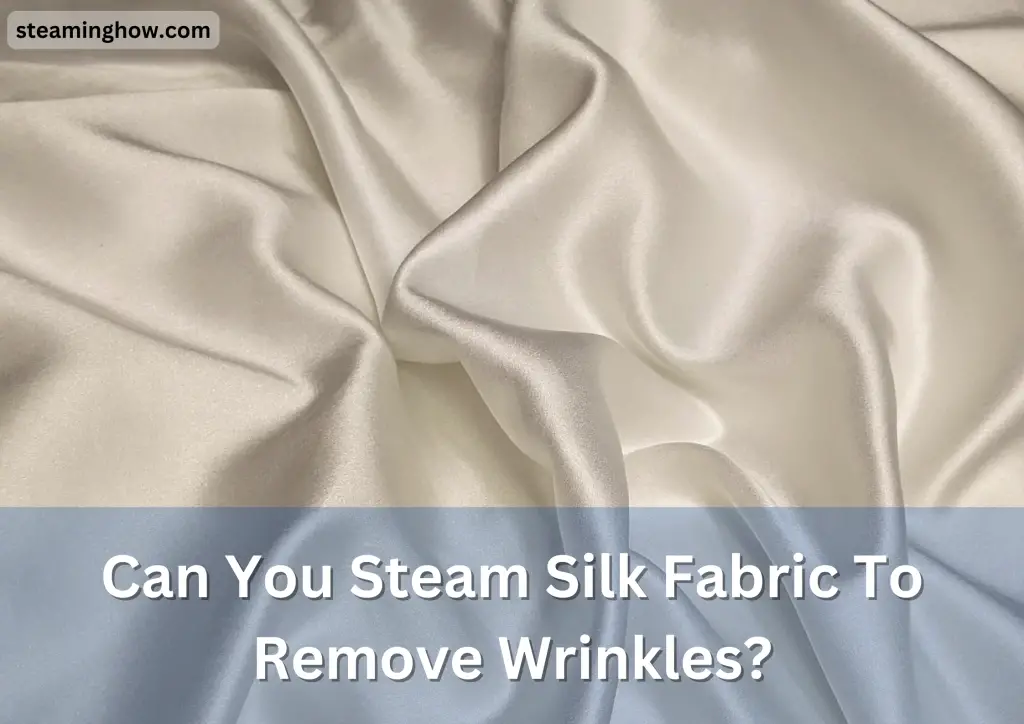 Is there anything more frustrating than trying to get wrinkles out of silk fabric? It's delicate and can be easily damaged, but if you don't get those wrinkles out, your outfit will look really worse.
Steaming is a great way to eliminate the wrinkles and creases from your garments without damaging or shrinking it. But, Can you steam silk fabric to get wrinkles out of it?
The answer is, YES!
Steaming is safe, and effective for most delicate fabrics including, silk, satin, tulle, polyester etc. In fact, it's the easiest way to remove wrinkles from a 100% silk fabric.
Table of Contents
How to Use a Steamer On Silk Garment to Remove Wrinkles?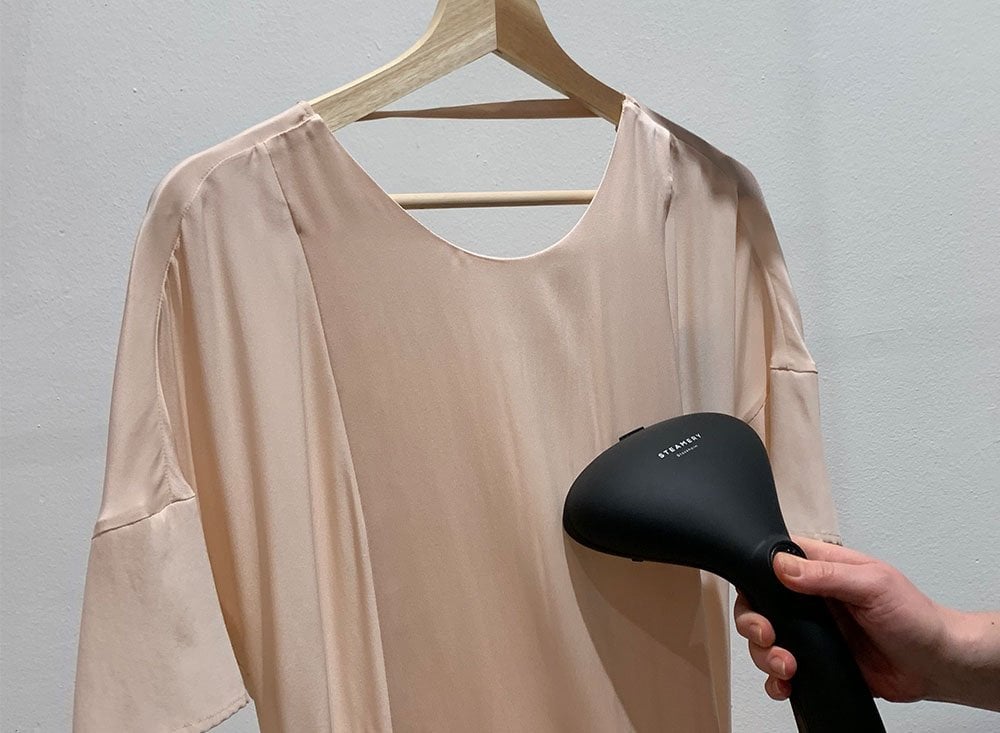 You can steam your silk fabric in a couple of different ways. But, using a clothes steamer is the best ways of removing wrinkles from your silk dress. Here's how to dot it properly:
Get The Best Steamer For Silk Items: You can use any handheld steamer or a fabric steamer in this process. But make sure that it comes with low steam setting for delicate items. Also, there're some fabric steamers available that feature special attachment for steaming delicate clothing. You can get one of them if you mostly wear delicate garments.
Hang Up/Lay Flat Your Silk garment: Depending on the type of your silk garment you should hang them in a hanger or lay them flat in an ironing board or any flat surface. Use clothespin to hang them properly with the hanger.
Prepare Your Fabric Steamer: If your fabric steamer comes with attachment for delicate surface, then simply attach it with the steamer head. Next, fill your steamer tank with water (follow manufacturer guideline). Wait for the steam ready indicator light.
Start Steaming Your Silk Items: Now, you can start applying the steam on your fabric with the lowest heat setting. Hold the fabric taut with one hand while steaming with the other. If you're going to steam a silk dress, blouse, or skirt you can gently run the steamer in downward strokes along the fabric.
After steaming the outer part of the dress, you should steam the underneath (for pleated skirt). Don't apply steam in one spot for too long to avoid water marks on the fabric.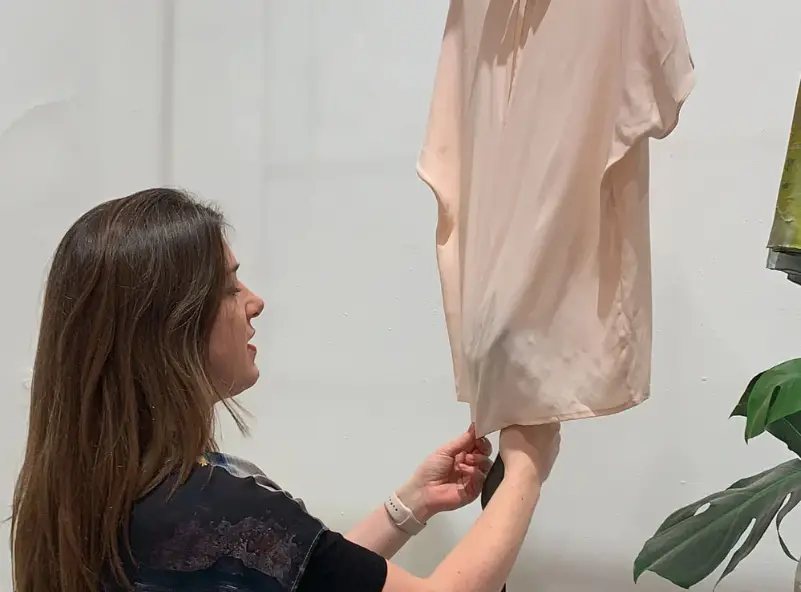 When you're done, unplug the steamer and let the fabric cool before wearing it or put it away.
How Do You Steam Silk Without A Steamer?
If you don't have a clothe steamer, you can try a few alternative methods to remove wrinkles from silk.
The Shower Method
Although there're a mix of feeling about the effectiveness of this method, but I like this method very much. And honestly speaking, it works for me and my wife.
However, the shower must be hot enough to produce enough steam to remove wrinkles and creases.
All you've to do is hang your silk dress in a towel rack of your bathroom. Close the door to make sure there's a lot of steam in the room. Take your shower as usual. The heat and humidity of the steam will help to loosen the fabric and release most of the wrinkles.
Steam From A Kettle
This is another nice hacks that you can try to remove wrinkles from your cloth without a steamer or iron.
First, hang your silk items in a high clothesline or object.
Boil some water in an electric kettle underneath the garment.
Lift the lid of the kettle when it continuously boils and produce steam.
The steam will reach the silk fabric and help the fibers to relax.
Keep waving the fabric around the steam so that the steam can penetrate the fibers evenly.
If you want to steam a silk tops or shirt then, make sure to steam the sleeves and cuffs by holding them horizontally over the steam. And, gently pull them back and forth.
Can I Iron My Silk Dress To Remove Wrinkles?
Yes, you can use an iron on your silk clothes to remove wrinkles and creases. Especially, you can iron the smaller items (shirt, tops, blouse) more conveniently than a long skirt or gown.
However, you'll need to know how to properly use the iron to avoid damaging of your favorite silk dress. Let me show you the step by step process:
You'll need to collect a few items before get started:
Press cloth ( or A thin pillow cover)
The Process:
First, turn your silk fabric inside out and lay it flat over the ironing board. Next, spray some water all over the clothing to add little moisture. Now, plug in the iron and adjust it to the lowest heat setting.
If your iron has silk setting then simply select that option. After that, place the press cloth on top of the fabric so that, the iron can't touch the fabric directly.
Now, gently press down the iron instead of moving it from one side to another. Just keep pressing and lifting. Repeat the process until you cover the entire garment. After that, hang the silk fabric in a cool, dry place to air dry.
Steaming Or Ironing Silk Fabric: Which One is Best?
When it's come to removing wrinkles from silk fabric, you have two main options: steaming or ironing. So, which one is best for silk fabric?
Well, silk is a thin fabric that can not withstand the intense heat of ironing. A clothes iron can get extremely hot and may scorch or burn your delicate fabric if you select wrong setting. On top of that, ironing can be time-consuming.
On the other hand, steaming is a safer option for your silk clothing. Because, a clothes steamer can remove wrinkles without making direct contact with the fabric. It use less heat and moisture that penetrate the silk fibers to smooth hardest wrinkles. Another plus is that, you can steam your fabric without taking them down. So, it'll save your precise time.
FAQ's
Does steaming shrink silk?
No. Because, the silk fibers are made of an insoluble protein called fibroin. This protein is extremely strong and resistant to shrinking or becoming misshapen, even when exposed to heat or water. So steaming your silk garments will not cause them to shrink. In fact, this is one of the best way to remove wrinkles from Silk fabrics!
Can You Steam Silk Satin?
Yes, you can steam silk satin. Silk satin is a delicate fabric, but it can be steamed to remove wrinkles. When steaming silk satin, be sure to use a low setting on your steamer and hold the steamer nozzle away from the fabric.
Can You Steam 100% Silk?
Yes, you can steam 100% silk. But, you should be very careful when steaming a pure silk fabric. Make sure to keep enough distance between the fabric and steamer. Besides that, you should not apply too much steam in one spot.
How Long Does It Take to Steam a Silk Dress?
The amount of time it takes to steam a silk dress depends on the steaming method. In general, it takes not more than 5 minutes to eliminate wrinkles from a silk dress using a steamer. The other steaming methods usually take more time than a clothes steamer.
Should I use a particular type of steamer for silk fabric?
A handheld garment steamer or a steamer with a delicate fabric attachment works best for silk. Always check the steamer's settings and use the lowest heat setting suitable for silk.
How should I store silk fabric after steaming to prevent wrinkles?
After steaming, ensure the silk fabric is completely dry before folding or hanging it. Store silk garments in a cool, dry place with minimal folding to prevent new wrinkles.
Conclusion
In conclusion, steaming silk fabric to eliminate wrinkles requires a cautious approach due to the fabric's delicate nature. Using a handheld garment steamer on the lowest heat setting or holding the steamer at a safe distance can effectively smooth out wrinkles without damaging the silk.
Alternatively, employing a steam treatment by hanging the silk in a steamy bathroom or using a cool iron covered with a pressing cloth can aid in releasing wrinkles. It's crucial to prioritize minimal exposure to steam and test a small, inconspicuous area first to ensure the silk's integrity remains intact. Following these careful methods ensures successful wrinkle removal, maintaining the luxurious appearance of silk fabric.
Related Posts