Last Updated on October 12, 2022 by Erik Sullivan
Most people don't think twice about how they clean their clothes. They simply throw them in the washing machine with some detergent and hope for the best.
However, there are actually different ways to clean different type of clothes, and each has its own advantages and disadvantages.
In this article, we'll be looking at two of the most popular methods – dry cleaning and steam cleaning – to see which is best for different types of clothing.
Besides that, you'll also get to know about their effectiveness and limitations.
Dry Cleaning Vs Steam Cleaning Clothes: A Quick Side By Side Comparison:
Dry cleaning and steam cleaning are both effective ways to clean and refresh clothes. However, there are some key differences between the two processes.
Dry cleaner uses chemicals to clean and sanitize clothes, while steam cleaning uses hot water and steam. Therefore, steam cleaning process is safer than dry cleaning.
Steam cleaning is less expensive and can be done at home, but it is not as effective at removing tough stains.
Key Differences Between Dry Clean vs Steam Clean Clothes:
Let's discuss about the key differences between dry cleaning and steam cleaning.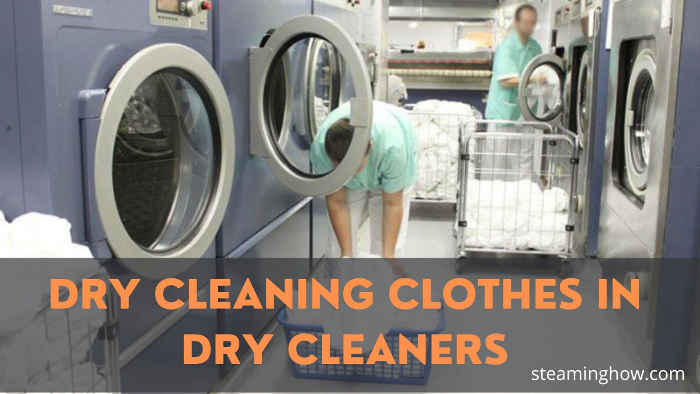 Cleaning Process:
Dry cleaning process uses special chemical solvent instead of water and detergent to clean clothes. This means that the clothing doesn't have to be immersed in water, which can be damaging, especially for delicate fabrics like silk and embellished Items. Dry cleaning also safer for fabric that should not be exposed to high heat and water.
Here's a quick overview about how dry cleaning clothes works:
Steam cleaning uses hot steam to clean and disinfect clothing. It also remove wrinkles from the fabric so that it looks fresh. A steamer uses only water to produce pressurized steam that penetrates the fiber of the clothing, loosening dirt and grime. Since the steamer does not use any chemical so it's %100 safe and eco-friendly.
Safety:
Steaming clothe is safer than drying. There're enough evidence that over drying of your clothe may causes shrinking, warping, and tearing. Steaming never causes shrinkage or any kind of damage of your garment.
Effectiveness:
Dry cleaning is extremely effective at removing oily and greasy stains that water-based cleaning methods may not be able to remove.
Steaming is best for light stains and odor. The powerful steam kills bacteria that causes bad odor in your fabric.
Convenience:
Dry cleaning is more convenient than steam cleaning because it does not require the use of water or any special equipment. With Dry cleaning you can drop your clothes off and wait for a few moments. The machine will clean and iron your clothes without your intervention. On the other hand, steam cleaning must be done manually which is time consuming and labor intensive.
Time:
Dry cleaning takes longer than steam cleaning because the dry cleaner has to press your clothes to remove wrinkles after cleaning. However, dry cleaning does not require drying time, so you can pick up your clothes and wear them right away.
Cost:
Dry cleaning process is generally more expensive than steam cleaning. The uses of electricity and other chemicals in the dry cleaning process can significantly increase the overall cleaning cost. A clothes steamer is a handheld device that consume very low energy.
Steam Cleaning Vs Dry Cleaning- Which One is Better For Your Clothing?
So which one is better- dry cleaning or steam cleaning?
The answer to this question may not be as clear-cut as you think. Let's take a closer look at the pros and cons of each method.
Advantages And Disadvantages Of Dry Cleaning:
Let's take a look at the advantages and disadvantages of dry cleaning clothes.
The Good:
Dry cleaning cleans clothes without using water.
This process can remove tough stains that would be difficult to remove with other methods.
Dry cleaning can extend the life of your clothes by protecting its color and brightness
Dry cleaning is more versatile than other cleaning methods. You can dry clean your blanket, comforter, area rugs and many more.
This method is ideal for fabrics with intricate details.
The Bad:
Dry cleaning can be harsh on fabrics.
Dry cleaned clothes may have chemical odors
It's often more expensive than other cleaning methods
Advantages And Disadvantages Of Steam Cleaning Clothes
The Good:
Steam cleaning is faster than traditional cleaning methods
Steam cleaning is a gentle way to clean and remove wrinkles from delicate fabrics like- polyester satin dress
It's an economical way to clean them since you only need water
You can steam clean your dry clean only clothes
This method is safer than dry cleaning or hand washing clothes, since it doesn't use any chemicals
Steam cleaners come in portable versions so you can clean your clothes anywhere.
The Bad:
Not effective to remove oil based stains from your garment
Stains and dirt may need to be treated with a pre-treatment solution before steam cleaning, which can add to the overall cost.
Types of Clothes that Should be Dry Cleaned:
You should dry clean the following types of fabric to avoid any discoloration:
Linen
Leather
Silk
Suede
Rayon
Types of Clothes that Should be Steam Cleaned:
You should steam clean the following types of fabric:
Cotton
Polyester and synthetics
Cashmere
Delicate Tulle
Vintage lace
Wool
Frequently Asked Questions
Q1: Is it OK to steam dry clean only clothes?
Yes, you can steam your dry clean only clothes. Steaming is safe to remove wrinkles and to refresh your dry-clean-only fabric. You can use a handheld steamer. However, we suggest to test applying steam in a less visible area of your garment first.
Q2: Do dry cleaners actually clean clothes?
Yes, they do. In fact, a dry cleaning is a great way to deep clean your cloth. In addition to removing wrinkles and stains, they can also remove odor from your clothing. This is because dry cleaners use a variety of solvents and chemicals to break down dirt, grime, and odor-causing molecules.
Q3: Does steam cleaning clothes remove stains and odor?
Yes, steam cleaning clothes removes stains, and odor. Additionally, steam cleaning can remove wrinkles and restore the fabric's original appearance. Using a steam cleaner is a great way to keep your clothes clean in less effort and time.
Q4: How often you should dry clean your dry clean only clothing?
This may vary depending on how often you wear them and how much dirt and dust they come into contact with. However, we recommend to dry clean your dry clean only clothes every 3-4 wears. Just make sure to keep an eye on the care label and follow whatever instructions are listed.
Related Posts