Last Updated on November 22, 2023 by Erik Sullivan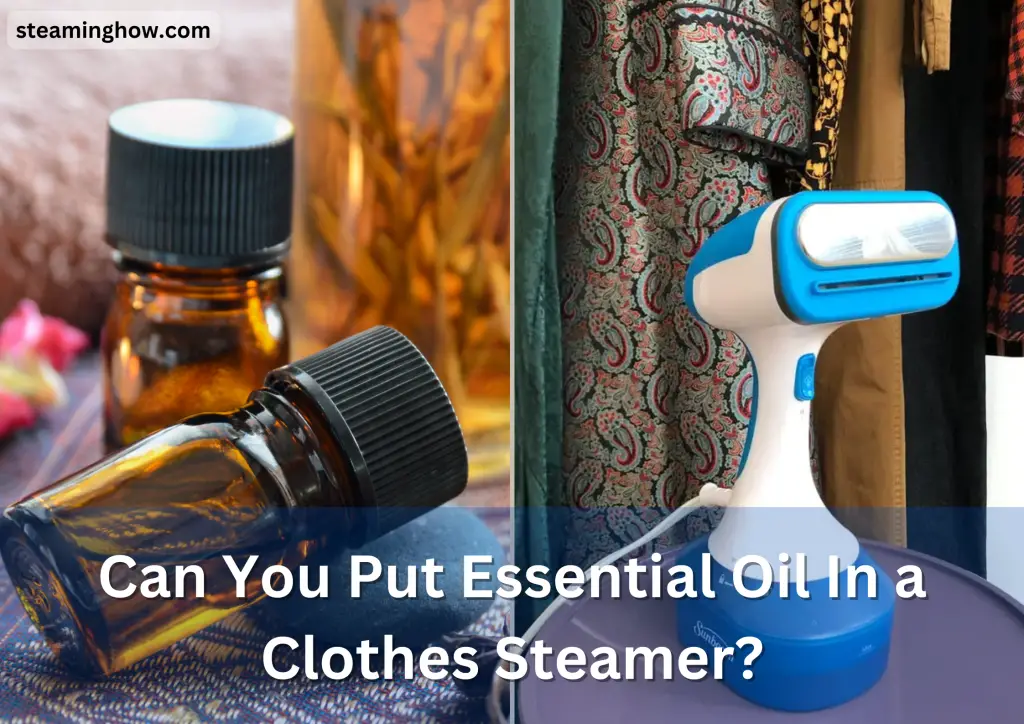 Essential oil is great way to make your clothes smell good naturally. Besides that, the lovely scent from an essential oil can instantly boost your mood and reduce stress.
Therefore, many people love to use these oils in their garments while washing them in a washer or in a drying machine.
But the burning question is, Can you put essential oil in a clothes steamer?
The answer:
You can, but you might end up with weird-smelling clothes. On top of that, it can cause clogging and damage to the machine and voids the warranty.
In fact, most popular steamer manufacturer recommend only using distilled water in a clothes steamer. You should read the steamer manual before you put anything like oil, gel, and other liquid solvent.
The Good news: You can use clothes steamer with essential oil by following our hack. Keep reading…
Table of Contents
Why You Should Not Put Essential Oil In a Steamer?
Because they're not water soluble. In fact ,you should not use any kind of oil based solution in your garment steamer. Essential oils are often extracted from the oil of some special plants.
They've a thicker consistency than water. And when you add them into a steamer tank with water, they'll float on top of the surface instead of dissolving with water.
Consequently, the oil cling into the surface of the tank and get set on there permanently which causes heavy damage of the tank and clogs the steam nozzle.
On top of that, using essential oil may cause discoloration of your laundry which is really frustrating.
Are there any essential Oils Available which are soluble and safe To Use With A Steamer?
YES! There're some brands that offer water soluble essential oils. That means, they'll get completely dissolved in water.
We recommend to try this one with your clothes steamer. This one is 100% safe and causes no damage to your skin.
You can use max 2-3 drops of these oils per fill up of the water tank.
Manufacturer Recommendations About Using Essential Oils In a Clothes Steamer:
Most of the clothes steamer manufacturer are very strict about using essential oils, fabric refresher, and other chemicals in a steamer. They only recommend to use distilled water in a steamer to prevent buildups.
I emailed the customer care of Pursteam (A leading steamer manufacturer) about using essential oil in their machine. They replied me with the following statement:
Dear Erik, I received a feedback from our product engineers. They said that it's not safe to use our units with essential oils since it will damage the unit in the long run.
A Nice Hacks to Make Your Clothe Smell Fresh With A Clothes Steamer And Essential Oil:
You can try this method to use essential oils with a clothes steamer. The best thing about this method is that, it'll not cause any damage to your steamer or the clothing
Things you'll need:
Steps to follow:
Step 1: Take the pad attachment and put a few drop of essential oils on the back of it.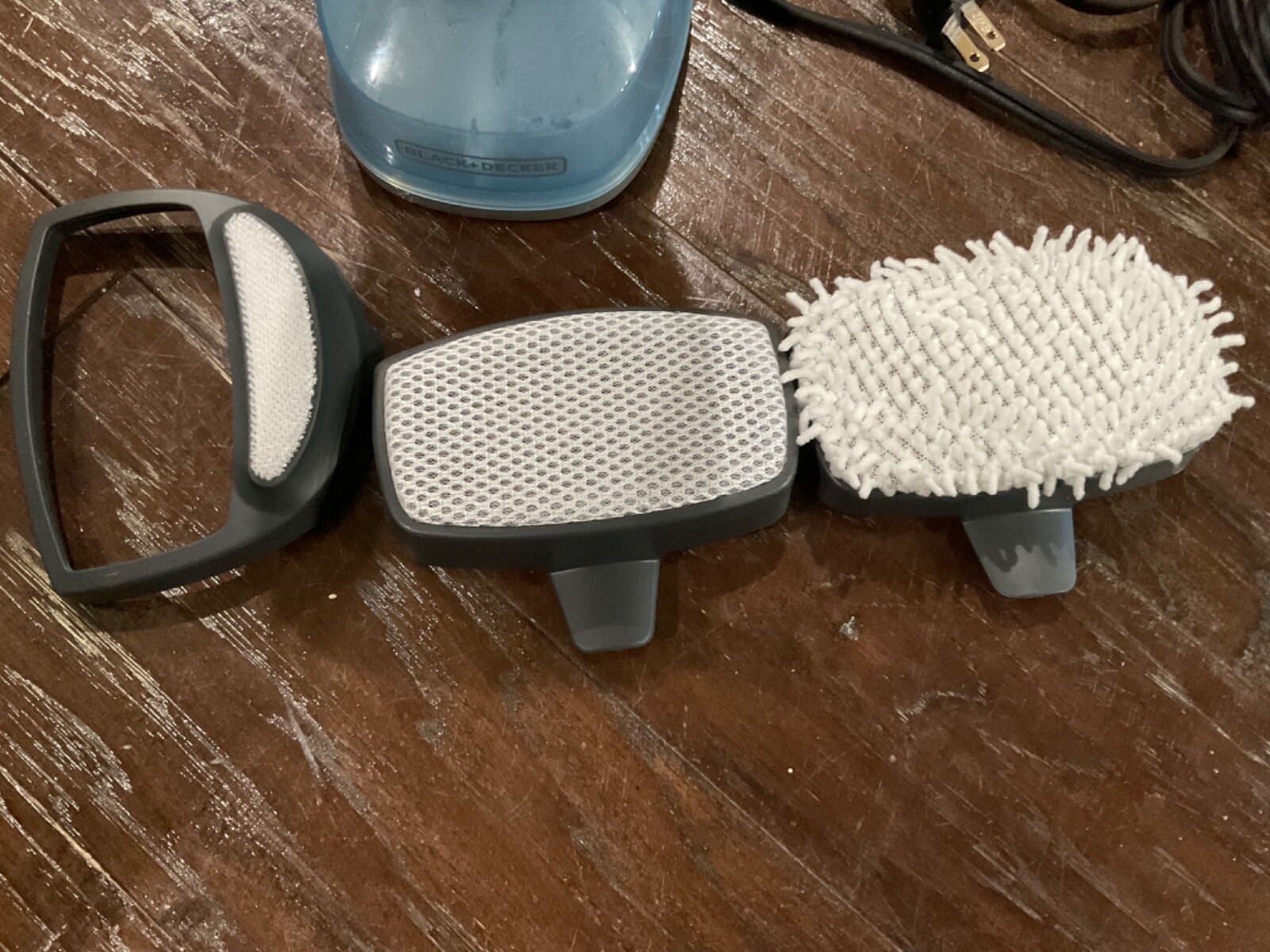 Step 2: Now, simply attach the pad with the steamer nozzle.
Step 3: Put some distilled water into the steamer tank and turn the machine on to produce steam
Step 4: Now press the trigger button to release the steam on your garment. The high pressure steam will put the oils smell out of the pad. Consequently, the fragrance will spread throughout your clothing.
Step 5: When you're done with steaming, let the clothe dry for a few moments.
N.B: This method is safe and effective for freshen up your clothes and to remove bad odor.
Frequently Asked Questions
Can You Put Scent in Clothes Steamer?
No, it's not a good idea to put scent in a clothes steamer. It may causes some unpleasant consequences. Use a natural scent in a washing machine before putting your clothes on it.
Can You Use Fabric Softener in a Clothing Steamer?
NO. You should never put fabric softener in a clothes steamer. Because, a fabric softener often contains lubricating chemicals that may causes damage to your steamer. The best way of using fabric softener is to adding it in your washing machine during the rinse cycle. You can also use an automatic dispenser instead of an washing machine.
What Can I Put in My Steamer to Make My Clothes Smell Good?
Unfortunately, you can't use anything other than distilled water in your steamer. You can buy a bottle of Febreze to make your clothes smell good all day long. Just make sure to use it right after steaming the clothes.
Can I Put Febreeze in My Steamer?
Again A Big NO! You should never use febreeze in your steamer. As we've said earlier, anything that is made of oil should not be used in a steamer. We found that, febreeze contains Hydrogenated Castor Oil, therefore it's not suitable for a steamer.
Does a Steamer Remove Odor?
A steamer can absolutely remove odor from clothing – in fact, it's a great way to remove tough odors like smoke or sweat from your clothing. A garment steamer can produce high temperature of steam that kills bacteria that causes odors.
Can You Use Ironing Water in a Clothes Steamer?
Yes, you can use ironing water in a clothes steamer. The main benefit of using ironing water is that it will help to remove any wrinkles or creases from your clothing. Additionally, it will help to soften the fabric and make it more resistant to wrinkles in the future.
What Should I Do to Add Fragrance to My Clothes?
There are a few things you can do to add fragrance to your clothes.
The best option is to use scented fabric softener liquid when you wash them in a washer. You can also add a couple of drops of essential oil to a dryer sheet and put it in the dryer with your clothes so they come out smelling fresher.
Another way is to mist your clothes with a lightly scented spray before you put them on. This can help keep them smelling good throughout the day.
Whatever method you choose, make sure to test it out on a small area of fabric first so you don't end up damaging your clothes.
Conclusion
In conclusion, while the idea of infusing clothes with essential oils via a clothes steamer seems appealing, it's essential to approach this method cautiously. Adding essential oils directly to the water tank of a clothes steamer can damage the steamer, clog its mechanisms, or emit excessive fragrance that may not be pleasant or suitable for all fabrics.
A safer alternative involves using a separate diffuser or aroma pad specifically designed for essential oils and placing it near the steam output of the steamer to lightly scent the surrounding area. Prioritizing manufacturer guidelines and exploring alternative methods for adding fragrance to clothes ensures both the effective operation of the steamer and the desired aromatic experience without risking damage or compromise to the steamer's functionality.
Related Posts