Last Updated on October 15, 2022 by Erik Sullivan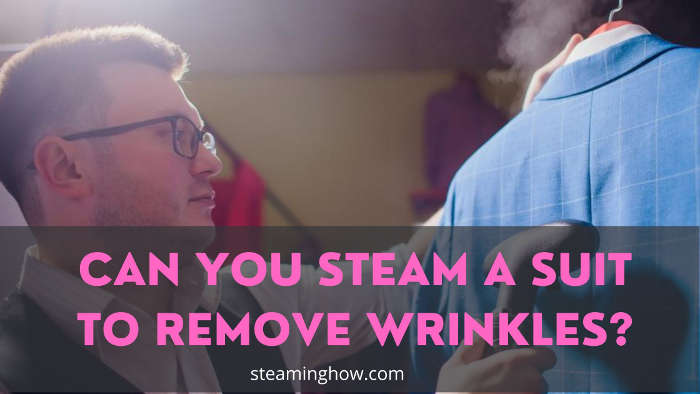 Can you steam a suit to remove wrinkles? This is a question that I get asked often from many people.
And, the answer is yes, you can steam a suit to remove wrinkles and creases. In fact, steaming is a great way to refresh your suit and make it look new again for your next event or meeting.
So, gentleman, read on for our tips on how to steam a suit like a pro (in just 5 easy steps)!
Related: How to Get Wrinkles Out Of Tie Without Ironing?
The Preparation Before Applying Steam on Your Jacket/Suit?
Before you begin steaming your suit, there are a few things that you must follow to make the process more effective and to avoid any damage.
Test Your Suit Fabric And Read The Label Carefully:
Although steaming is safe for your suit but, we recommend to test the steam on a small, inconspicuous area of the suit to make sure it doesn't shrink the fabric. You can also follow the suits label first to check the care recommendations before steaming it.
Make Sure the Suit is Free of Any Dirt and Stain:
This is very crucial to remove any dirt and stubborn stains from your blazer before you apply steam or iron. Otherwise, the heat and steam will permanently set the stains on your jacket.
How Do You Steam Suit at Home or Hotel Room? (Step by Step)
I guess you already read the suit label and did the steaming test in a small portion of your suit. And you've found that it's safe to steam your blazer.
Congratulation gentleman!
Now, let's come to the step by step process of steaming your suit.
It's actually quite simple. You'll need the following things to get started right away.
A garment steamer with multiple steam setting
A wide hanger
Some water
Safety gloves ( Please, stay safe)
Now follow the steps below:
Step 1: Hang your suits properly:
First, make sure your suit is hung up on a hanger. If it's not, the weight of the fabric will cause creases. Or you can't steam it properly. Use adjustable hanger which is great for hanging all types of suits and clothes.
Step 2: Pour some water into the steamer
Now fill your steamer tank with some distilled water. Using tap water in your steamer is a big NO. Here's why?
Step 3: Plug the steamer to an electric outlet
Plug your steamer with an electrical outlet and turn it on to generate steam. It can take anywhere between 5-10 minutes to produce steam.
Step 4: Wear safety gloves
We recommend using heat resistant hand gloves to protect your hand from the hot steam vapor while steaming.
Step 5: Apply the steam on your suit in up and down motion
Now it's time for steaming. Select the most appropriate steam setting for your suits. Make sure to pull the fabric tightly with one hand while holding the steamer with another hand. Also make sure the steamer head is right up against the fabric.
You can apply the steam on the front side first. Slowly move the steamer head from upward to downward motion. Pay special attention to the pockets and the sleeves. Don't forget to apply steam under collar and lapels. People often avoid steaming these areas.
Step 6: Steam the back part of your suit
Once you're done steaming the front side, you can start steaming the back of the suit. Start from shoulder and then the seam. Don't apply too much steam on the seams. If not, they can lose their shape.
Step 7: Let the suit dry completely
After steaming your suit, you'll need to dry the suit completely. You can use a desk fan to make the drying process faster.
How to Steam Suit Without Using a Steamer?
This method is for those who doesn't have any steamer in their home. There are a few different ways that you can follow to steam a suit without using an actual steamer.
Method 1: Sauna Treatment in Hot Shower:
The first method is called sauna treatment. Because , it's very similar to a sauna bath.
All you need to do is hang your suit in the bathroom while you take a hot shower. The steam from the shower will penetrate the fiber to relax the fabric and remove any wrinkles. However this hacks will not be that effective if your suit is heavily wrinkled. You must steam it with a clothes steamer.
Method 2: Ironing With Steam Setting:
Another effective way to steam a suit is to lay it flat on an ironing board and use an iron on the steam setting. Make sure to use a pressing clothes between the iron plate and the fabric while ironing. This pressing clothes will protect your suit from scorches and shiny marks.
Be sure to set the iron to the right heat setting according to the fabric type. If your iron has no specific heat setting for different fabric type, don't worry you can set it to the lowest setting and start ironing.
Steaming Vs Ironing: Which one is Better For Suits?
Ironing and steaming are both popular methods for getting wrinkles out of suits. But which one is better and safer for your suit?
Let's take a look at the pros and cons of each:
Ironing:
Pros: Ironing is a fairly straightforward process and doesn't require any special equipment. All you need is an iron and an ironing board. Ironing is best for removing stubborn wrinkles from more robust fabric.
Cons: Ironing may damage your suit if you select a wrong setting. And, it's more time consuming than steaming. It can also be easy to burn yourself with the iron if you're not careful.
Steaming:
Pros: Steaming is a quick and easy way to get wrinkles and odors out of your suit. All you need is a steamer and some distilled water. With steaming there is less possibility of damaging the fabric.
Cons: Steaming can be tricky if you don't have a good steamer. It's also important to be careful not to get the suit wet while steaming it.
Verdict: The answer may depend on your personal preference. If you own a wool suit, then a steamer is the best option to remove wrinkles from it. Ironing is best for suits that made of cotton or denim.
But, I always recommend steaming above ironing because steaming is safe for most delicate fabrics. Another plus of a steamer is their portability. You can use a travel steamer on the go which saves your time.
Frequently Asked Questions
Can You Use a Commercial Wrinkles Releaser on Your Suit?
Yes, you can use a quality Commercial wrinkle releaser on your suit. This is great for people on the go who want to give their suit a final touch ups. But, this will not give you a satisfactory result for heavily wrinkled clothes.
Is it OK to steam wool suit?
It's perfectly fine to steam wool suits to remove wrinkles – in fact, it's the best way to do it! Just be sure to use a lower heat setting on your steamer so you don't damage the fabric. And as always, check the care label before attempting to steam any clothing!
Can you unwrinkle a suit in the dryer?
No, you should never unwrinkle your suit in the dryer. The extreme heat can damage it. Instead you should dry clean it first to remove dirt and dust. After that, you can use a steamer or an iron to get the creases out of it. Note that, there are some steam dryer available in the market right now that offers individual steaming option to remove wrinkles.
Can you steam dry clean only suits?
Sure! If you're short on time, or simply don't have access to a traditional dry cleaning service, steaming your suits is a perfectly viable option. In fact, many professional garment care experts actually recommend steam cleaning as a gentle and effective way to clean suits made of delicate fabrics like wool and silk.
Do Dry Cleaners Steam Suits?
Yes, dry cleaners often use steam or iron to remove wrinkles from your suits.
Can You Steam a Suit in the Shower?
Yes. In fact, many people find that steaming their clothes in the shower is the safest way to remove wrinkles and freshen them up. It's a natural process of steaming your garment without using heat or high pressure.
Related Posts