Last Updated on September 30, 2022 by Erik Sullivan
Do you ever notice-
Your clothes steamer is getting stop several times
Or it's releasing steam unevenly.
Or the steamer is smelling funky.
Those are a few major signs that your steamer needs a deep clean up to keep it running properly.
In this blog post, we will show you how to clean clothes steamer and some tips for keeping it in tip-top shape.
Why Should You Clean Your Clothes Steamer And How Often?
Like most other appliances, cleaning and maintaining of a garment steamer can significantly increase their lifespan. It also help your steamer to perform properly.
A quality steamer can freshen up your clothes more quickly and efficiently.
However, if you fail to clean and descale it, mineral deposits can form inside the tank, and around the steam holes. Consequently, your steamer will take longer to heat up and produce low amount of steam. It can also spit water and gurgle when you're using it.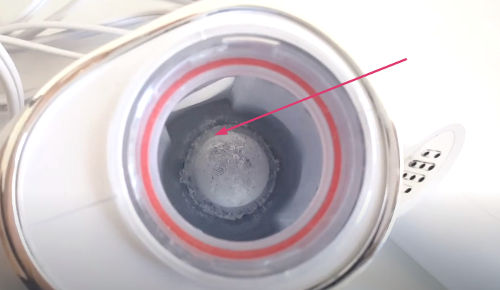 On top of that, if the steamer is not descaled properly, it can produce stains on your garment which is really frustrating.
Ideally, you should clean your clothes steamer once a month. However, if the water in your area is hard, then you need to clean and descale it every two weeks.
How to Clean Clothes Steamer To Remove Limescale?
There're mainly two different types of garment steamer available in the market. 1) handheld steamer 2) standing steamer. Fortunately, you can apply almost same method to clean both types. You don't even need any special tool or supplies.
How to Clean a Handheld Clothes Steamer to Remove Mineral Buildups?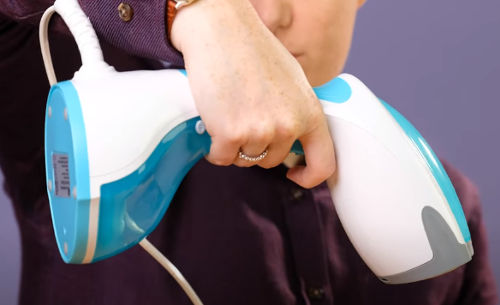 To clean a clothes steamer, you'll need:
Instructions:
Step 1: Unplug the steamer and allow it to cool completely.
Step 2: Remove the water tank from the steamer and empty any remaining water from it.
Step 3: Fill the tank with equal parts white vinegar and water.
Step 4: Plug in the steamer and turn it on. Allow the vinegar solution to heat up and steam until ¾ of the solution converts into steam.
Step 5: Turn off the steamer again and plug out from mains. And let it cool down.
Step 6: Use a soft cloth to wipe down the outside of the steamer, including the steam nozzle. If you notice any white residue around the stem holes, probably that is limescale. Luckily, there's a quick heck to eliminate this buildup.
First, you'll need to remove the nozzle from the main unit, and soak it in warm white vinegar for at least 4 hours. Next, rinse it properly with distilled water and dry it before putting it back to the steamer.
Step 7: Rinse out the water tank with clean water and refill it with fresh distilled water.
Step 8: Plug in the steamer and turn it on. Allow the steamer to heat up and release steam until the tank is empty. This will remove any vinegar residue.
Step 9: Turn off the steamer and unplug it from the power outlet. Allow it to cool completely before storing it.
How to Clean a Standing Clothes Steamer?
If you own a full-size standing clothes steamer with detachable tank then follow the steps below to clean it:
Remove water from the reservoir: First make sure to remove the water from the reservoir before descaling it. You may notice a lot of chunks of dark stuff coming out. These are the mineral buildups.
Unplug it and let it cool: Next, you must unplug it from the electric socket and lit it cool for some time. Because, safety is important.
Remove the hose and clean it: After that, detach the hose of the steamer from its reservoir. Follow the manual if required. Inspect the hose for any sticky gunk that often cling to the sides. If you find any gunk in there, then remove them by running water flushes through it from your kitchen faucet.
Make the solution of white vinegar and distilled water: Depending on the capacity of the reservoir, pour equal parts of distilled vinegar and water into it. Use a measuring cup to do that correctly.
Place the steamer in the outside of your home: Next, you must take the steamer outside of your house if you don't like to enjoy the stinky smell of the vinegar.
Plug the steamer in and power it on: Plug it in with an electric output. Turn on the steamer and let it produce and release steam until it's halfway down.
Turn off the steamer and let the solution sit: When you notice that the half of the solution are left inside the tank, then turn it off and let the remaining solution sit there for about an hour.
Empty the tank and flush it with water: After an hour or so, you should pour out the solution in your sink. Now, refill the tank with distilled water and shake it gently. Next, drain out the water from the tank. This will help you remove the sediment from the tank.
Refill the tank again with water and run the steamer for the last time: To remove the vinegary smell, you'll need run the steamer with distilled water for about an hour or so.
Empty the tank and dry it: After an hour, turn off the steamer and let it cool. Drain out the water completely and let it dry. Now, your steamer is ready for use.
How to Clean a Clothes Steamer Without Vinegar?
If you want to clean and descale your clothes steamer without using the vinegar, then you can use commercial descaling solution. We recommend the following two products:
1. Durgol Universal Multipurpose Descaler/Decalcifier
This is a multi-purpose descaler that is highly effective against tough calcium buildup of your steamer. It's safe, bio-degradable, and non-corrosive. Follow the instructions that come with the descaler.
2. CLR PRO Calcium, Lime & Rust Remover
This produce can efficiently remove hard water deposits from your clothes steamer. It's made of Lactic Acid, which is a natural descaling agent. This descaling agent contains no harmful chemicals.
How To Maintain Your Clothes Steamer to Prevent Mineral Deposits?
If you have a clothes steamer, then you know how important it is to keep it clean and well-maintained. Here're some tips to keep your steamer in good condition:
Read the manual carefully: This may seem like a no-brainer, but you would be surprised how many people don't actually read the manual that comes with their steamer. Not only will this help you understand how to use your steamer properly, but it will also offer some helpful tips on maintenance.
Use distilled water: To use your steamer efficiently, it's best to use distilled water. It's free of all kinds of mineral deposits and bacteria. However, if you don't have any option to use distilled water in your clothes steamer, then you can use deionised water which contains low amount of mineral contents.
Empty the water tank after each use: This is one of the most important things you can do to maintain your steamer. You must empty the tank completely after each steaming session to prevent leakage. If you leave water in the tank, mold can develop in it, which can cause bad smell in the steamer. Not only that, it can also reduce the steamers effectiveness.
Descale the steamer regularly: Just like with any other appliance that uses water, it's important to descale your steamer at least once in a month. Especially, if you use tap water, then you must do it. It'll help to keep your steamer working properly.
Clean the nozzle: Another important maintenance step is to clean the nozzle periodically. This will help prevent clogs by the minerals residue and ensure that your steamer is able to produce a consistent stream.
Store the steamer properly: When you're not using your steamer, make sure to store it in a cool, dry place.
Frequently Asked Questions:
Can You Put Vinegar in A Clothes Steamer?
You can put vinegar in a clothes steamer if necessary. The vinegar will help to remove limestone and mineral deposits from the steamer tank. It will also help to deodorize it. However, if you do not have vinegar handy, you can also use water or lemon juice.
Can I Use Essential Oil In A Clothes Steamer?
No, you should not use essential oil in your clothes steamer. Because, they're not water soluble and they can build up inside the water tank. Not only that, it also make your cloth smelling stinky.
Related Posts: