Last Updated on October 15, 2022 by Erik Sullivan
Maintaining a wrinkle free backdrop is a must if you want to take a professional looking portraits photos. This is as important as making sure your subject is well prepared and dressed.
However, overtime your backdrop will inevitably get wrinkled and folded, no matter how careful you are.
Don't fret though, because there is a quick way to get rid of those pesky wrinkles without damaging your backdrop- by steaming them out!
But, Can you steam vinyl backdrop too to remove wrinkles and folds?
Yes, you can do that and in this post we'll show you how to do it right.
Besides that, we'll also give you some pro tips on keeping your vinyl backdrop wrinkle-free. Let's get started with your desired answer.
Can You Steam Vinyl Backdrop to Get Folds and Creases Out Of It?
Yes, you can steam vinyl backdrop to get the wrinkles and creases out of it. But you'll need to make sure that the steamer is set to low/medium heat and positioned at least 6 inches away from the backdrop. Remember that, vinyl is not heat resistant. Too much heat (above 212 degrees Fahrenheit) can cause the vinyl to warp or become damaged.
How to Steam Vinyl Backdrop With a Steamer? ( Step by Step)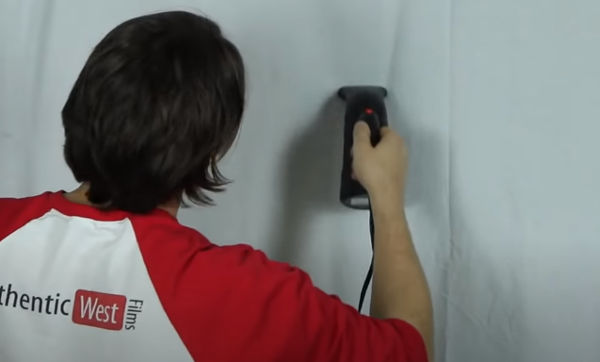 Steaming is the fastest and the most effective ways to get wrinkles out of your vinyl backdrop. On top of that, it's 100% safe as long as you follow the best practices.
You can use a good quality garment steamer that has medium steam setting (150-200 degrees Fahrenheit) and a wide nozzle so that it can cover a large area in a short time.
Things Required:
A garment steamer
Distilled water
A clothesline
Few clothespin
Follow the steps below:
Step 1: Hang your wrinkled vinyl backdrop on a clothesline or any other type of line that you have. Use clothespin to hang it from the clothesline. (If you've backdrop support stand, then you can use that to hang the backdrop)
Step 2: Fill your steamer tank with water. Don't overfill it.
Step 3: Turn on the machine and wait for some time. The steamer will generate steam by this time and release some steam into the air. Make sure the steamer is set to medium heat.
Step 4: Begin steaming the backdrop in small sections from the top to the bottom. Move the nozzle slowly over the heavily wrinkled areas. The high heat and steam will smoothen the backdrop fabric and eliminate wrinkles, and folds. Be careful not to get the backdrop too wet.
Step 5: Let the backdrop air dry before folding or rolling it up.
You can also watch the following video that apply the same method:
Caution:
Steam can get extremely hot which can burn your skin. So be careful. You can protect your hands with a heat resistant gloves.
What's the Best Steamer For Backdrops?
You can use any handheld steamer or a garment steamer or even a travel steamer to get the creases and folds out of a backdrops. Just make sure that, the steamer comes with a wide nozzle and a medium heat setting to get the job done safely and more efficiently.
We highly recommend the J-2000 Jiffy Garment Steamer for professionals who are serious about removing wrinkles from their backdrops.
This 1300 watts heavy duty steamer includes a 5.5 ft. hose attachment, and a 6 inches wide steam nozzle that helps to steam a large backdrop in less time and effort. The longer hose also help to steam the backdrop without removing it from the rod.
If you've a smaller backdrops, you should consider a portable steamer like- Conair Turbo Steam Hand Held Fabric Steamer. It also works just fine for removing wrinkles from vinyl tablecloth.
How Do You Get Wrinkles Out of a Vinyl Backdrop? (Using Hot Water)
If you're not a fan of steaming your backdrop to remove creases, you can try an alternative methods like the following one. Note that, this is a tradition way which could be moderately effective against wrinkles and folds in your backdrop fabric.
What you'll going to need:
A spray bottle
Some hot water
This process is pretty straightforward and relatively easy than other methods. In fact, this is the best alternative of steaming or ironing your backdrop to remove wrinkles. You only need hot water and a spray bottle to get the job done perfectly. If you've a large backdrop you can use a weed sprayer instead of spray bottle to cover the whole surface quickly.
Firstly, hang the backdrop from its stand. Apply some tension to the backdrop from the stand. This will help to release some creases.
Next, pour some warm water into the sprayer. Then, sprinkle the water directly over the wrinkles, and folds of the vinyl backdrop.
Move the nozzle on both horizontally and vertically to eliminate creases from both direction. Make sure to go over the flip side of the backdrop. Eventually, you'll notice that the wrinkles are fading away.
How to Prevent Wrinkles in Vinyl Backdrop ( Some Pro Tips)
There are a few simple things that you can do to prevent wrinkles in your vinyl backdrop.
First, always store your backdrop rolled up rather than folded. This will help to prevent creases from forming.
Secondly, when setting up your backdrop, be sure to smooth it out as much as possible before attaching it to the wall or stand.
Third, avoid storing your backdrop in humid conditions. Because it will cause the fabric to expand and contract, which leads to wrinkles.
Finally, if you do notice any wrinkles starting to form, simply steam them out with a garment steamer as early as possible. By following these simple steps, you can keep your backdrop looking its best for years to come!
Frequently Asked Questions:
Can I Steam a Backdrop?
Definitely you can steam a backdrop to remove wrinkles. Just be careful not to scorch it with extreme heat! Use medium steam setting to be in the safe side.
Can I Put Vinyl Backdrop in the Dryer?
While it is technically possible to dry vinyl backdrop in the dryer, doing so could cause it to shrink, warp, or even melt. In addition, high temperatures can also cause the colors on a vinyl backdrop to fade, so it's best to avoid putting it in the dryer whenever possible.
If you still want to put your backdrop in the dryer, select the lowest setting with maximum 10 minutes run time.
Can you Iron a vinyl backdrop?
Yes, you can iron a vinyl backdrop to remove wrinkles and creases. But, you must use the lowest setting to prevent melting.
As we said earlier, vinyl is very sensitive to heat. Therefore, it would be best you test a corner of the backdrop with the iron. If you see nothing wrong then you're good to go.
Here's a pro tip:
Place a thin towel or sheet of fabric over the top of the vinyl backdrop to protect it from the heat. Ironing for just a few minutes should be enough to get rid of most wrinkles and creases.
Can You Hand Wash a Vinyl Backdrop?
Since vinyl is water resistant therefore, you can hand wash a white vinyl backdrop with hot soapy water. Use a bristle brush to remove dirt from it.
Will Steam Ruin a Printed Backdrop?
No, steam won't ruin a printed backdrop. In fact, if you're looking to clean your backdrop, steaming it is the best way to do so. Just be careful not to get the steam too close to the fabric, as it could cause it to wrinkle.
Can You Steam a Muslin Backdrop?
Yes, you can steam a muslin backdrop just like you steam a vinyl backdrop. It's the safest and also the most effective ways to make your muslin backdrop wrinkle free. You can use a travel steamer which is easy to use and does a great steaming job. Here's a quick video that helps to do it properly.
Related Posts