Last Updated on November 30, 2023 by Erik Sullivan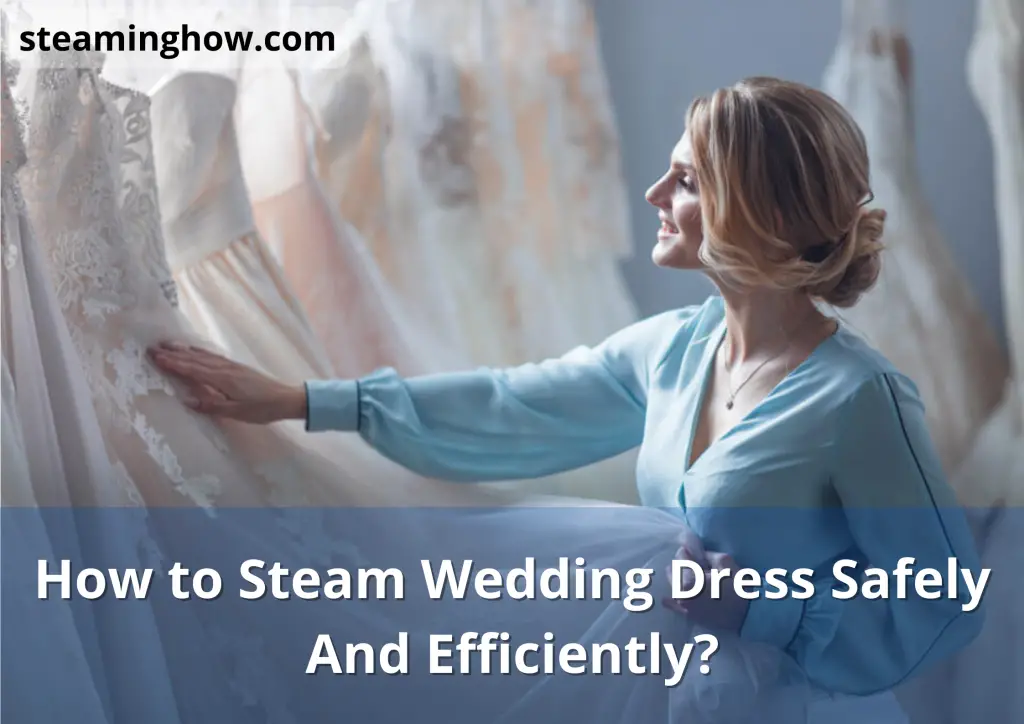 Most women dream of their perfect wedding day since they are young girls. This includes the perfect ceremony, the perfect location, and most importantly, the perfect dress.
While many brides choose to have their dresses custom-made, others opt for a ready-to-wear design.
No matter which type of dress you choose, it is important to make sure that your dress is clean and wrinkle-free on your big day.
Steaming is a great way to keep your dress wrinkles free. In this blog post, we will show you how to steam wedding dress step by step.
Table of Contents
Do You Really Need to Steam Your Wedding Dress?
Before you steam your wedding dress, it's crucial to know the fabric type and how prone it is to wrinkles. Because, there are some fabrics that look more wrinkly after steaming, for example- Shantung, dupioni, and taffeta.
If you are unsure about the fabric type, it is always best to consult with your tailor or a professional bridal gown specialist. They will be able to tell you for sure whether steaming is necessary.
However, steaming is generally a good idea even if it's not strictly necessary. It can help to freshen up the fabric.
Is It Safe to Steam a Wedding Dress By Yourself?
Yes, you can steam your wedding dress by yourself. However, we will only recommend doing so if you feel comfortable and confident in your ability to do so. Because, it's a special dress for your big day, so it needs extra care and maintenance.
If you are at all unsure, it is always best to err on the side of caution and take your dress to a professional or contact with the bridal saloon where you purchased the dress.
That being said, if you do decide to steam your dress by yourself, there are a few things you should keep in mind.
First, you need to be very careful not to get the dress wet. If even a small amount of water gets on the dress, it could cause irreversible damage.
Second, be sure to use a steamer that is designed for use on delicate fabrics. If you use a steamer that is too powerful, it could damage the dress.
How to Steam A Wedding Dress At Home?
List of required items:
A quality clothes steamer with delicate setting/lowest setting
Some distilled water to prevent watermarks in your dress
Follow these steps to steam your wedding dress at home
Hang your dress up so that it is not touching the ground. You can do this by using a hanger or by hanging the dress over the back of a door.
Fill a steamer with water according to the manufacturer's instructions. Make sure to clean the steamer nozzle before using it in your wedding dress.
Cover the steam nozzle with a thin towel to prevent water droplets.
Hold the steamer about 3-6 inches away from the dress and move it slowly up and down the length of the dress. Be sure to keep the steam moving so that you don't end up with water spots on the dress.
Once you have steamed the entire dress, turn it inside out and steam the inside of the dress as well.
Hang the dress up to dry completely before storing it away.
How to Steam The Veil?
If your wedding dress has a veil attached, you will need to take special care when steaming it. The best way to do this is to hang the veil from a velvet hanger to keep the veil from slipping off. Now, you can apply steam to it.
Start from the top and then work your way down. The process should not take more than 5 minutes to done completely.
After steaming the veil, let it hang to dry.
How to Steam a Wedding Dress Without a Steamer?
Steam From Bathroom Shower
If you want to remove wrinkles from your wedding dress without using a steamer, then you can use this nice hack. The bathroom shower method works surprisingly well to remove minor wrinkles from delicate fabrics including your wedding gown.
The steam from the hot water will act like a clothes steamer and it helps to soften up your dress.
You can apply this method the night before the wedding.
All you need to do is, hang your dress in the bathroom, making sure that it does not touch the ground or anything else.
Close the door to the bathroom so that steam can build up inside. Turn on the shower and let it run for a few minutes until the room is filled with steam.
After 10-15 minutes, turn off the shower and let the dress hang there for more 10 minutes. After 10 minutes, remove the dress from the bathroom and let it air dry.
How to Steam a Wedding Dress With An Iron?
If you don't have a steamer, then you can use a dry iron to remove wrinkles from your wedding gown. Make sure to use the lowest heat setting possible and to cover the dress with a thin cloth such as a handkerchief or pillowcase. Never put the iron directly on the dress as this could damage it.
Here's how to steam a dress with an iron:
Step 1: Place your dress on the ironing board. You can use any flat surface instead of ironing board.
Step 2: Begin from the top of the neck. Make sure to cover that part with a clean pressing cloth. This will protect the cloth from overheating.
Step 3: Select the lowest heat setting and then, gently press the top of the cloth. Remember, this is the hardest part of your dress to iron.
Step 4: After steaming the top section, you can iron the lower part of your dress. Just pull it over the board and straightened it out. Don't forget to cover the surface with the pressing cloth. Put your iron over the dress and move it in a circular motion.
Step 5: When it's done, let the dress dry in the air.
How to Keep Wedding Dress From Getting Wrinkled?
If you want to keep your wedding dress from wrinkling, then you should follow the checklist below:
After getting the dress make sure to hang it up in a cool, dry place for at least 8 hours. After that, store your wedding gown in a breathable cloth bag.
If you want to travel with the dress, make sure to keep it inside a garment bag so that the bodice form does not fold. Lay it flat under the car seat or inside the closet of the plane.
Use padded hanger to hang your wedding gown.
You should not use any traditional iron as it leave iron marks on your dress. Instead, use a handheld steamer to remove creases from the dress.
Frequently Asked Questions
How Long Does It Take to Steam Wedding Dress?
It depends on many factors including, the type of fabric, the length of the train, and the complexity of the design. Besides that, the size of the steam nozzle also determines the required time to steam a wedding gown. So, considering all of those factors, it can take anywhere from 30 minutes to a few hours, to steam a wedding dress.
How Much Does It Cost to Steam a Wedding Dress By Professional?
It can cost anywhere from $25 to $100 to have a professional steam a wedding dress. The cost will depend on the size and complexity of the dress, as well as on the location of the steaming service.
Note that, not all professionals offer the same services. Few of them offer a free consultation; take advantage of this so you can get an idea of what the total cost will be.
How far in advance of the wedding should I steam my dress?
It's recommended to steam your wedding dress a few days before the wedding, especially if it has been stored for a while. This allows any wrinkles to settle, ensuring your dress looks pristine on your wedding day.
Should I steam my dress inside or outside the garment bag?
Take the dress out of the garment bag before steaming. Steaming inside a bag can trap moisture and defeat the purpose of removing wrinkles. Hang the dress on a padded hanger, and cover it with a clean, white sheet to prevent direct contact with the steamer.
Is it possible to rent a professional-grade steamer for steaming my wedding dress?
Yes, some specialty stores or wedding boutiques offer rental services for professional-grade steamers. Renting a high-quality steamer can ensure efficient and safe steaming for your precious wedding dress.
Conclusion
In conclusion, safely steaming a wedding dress demands meticulous care to preserve its intricate details and delicate fabrics. Begin by consulting the dress's care instructions and testing a small, inconspicuous area with the steamer to ensure compatibility.
Using a handheld garment steamer on the lowest heat setting or holding the steamer at a safe distance can effectively release wrinkles without damaging the dress. To avoid potential watermarks, refrain from direct contact between the steamer and the fabric, and maintain a gentle, continuous motion while steaming.
Lastly, consider seeking professional help or using a specialized bridal gown preservation service if uncertain about the steaming process, ensuring the dress retains its pristine condition for the special day.
Related Posts