Last Updated on September 13, 2023 by Erik Sullivan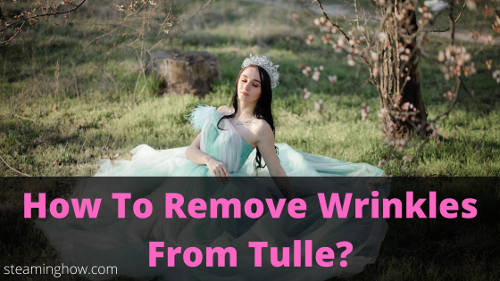 Have you ever tried to wear a tutu or a full skirt and had the fabric bunch up and create unsightly wrinkles? This is a common problem with most delicate fabrics including tulle. Luckily, there are some great solutions that you can try.
In this blog post, I'm going to show you, how to get wrinkles out of tulle fabric.
I'll share 3 most effective and the safest methods that you can follow to remove wrinkles from tulle.
Besides that, I'll also show you, how to prevent wrinkles in your tulle fabric.
So, keep reading to learn more!
How To Get Wrinkles Out Of Tulle? (3 Best Ways)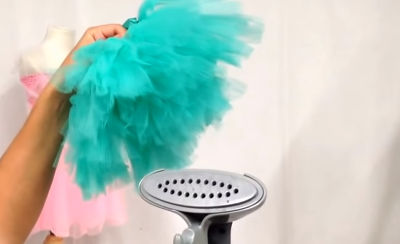 Tulle is one of the most delicate synthetic fabric which should be handled carefully. In fact, you should be very careful when applying different methods to remove wrinkles and creases out of it.
The following methods are easy to use and safe.
Using a Garment Steamer to Remove Most Stubborn Wrinkles from Tulle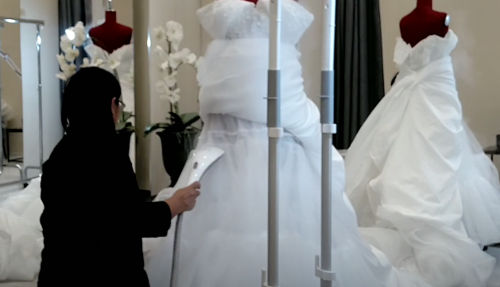 Using a steamer is one of the most effective ways of getting wrinkles out of tulle quickly. In fact, I personally prefer steaming over ironing when it comes to releasing wrinkles form tulle or other delicate fabrics like-polyester satin.
Because, steaming is gentler on your clothes than ironing. On top of that, steaming is much easier to apply and it saves your time significantly. You only need a steamer and your clothing and you're good to go.
Alright. Now, let's start steaming your tulle in step by step:
You'll need the following things:
A clothes steamer (A handheld steamer is preferable like- this one.)
Step Step By Instructions:
Step 1: Clean Off The steamer head
Before you start applying steam on your delicate tulle, you should make sure that the steamer head is free of dirt. Because, if you steam with a dirty steam nozzle it can cause stain in your favorite clothes.
Step 2: Pouring water into the reservoir
Now, fill up the steamer tank with distilled water. Do not cross the recommended fill up line.
Step 3: Turn on the machine and let it produce steam
Once you fill up the tank with water, plug it in to a socket and give it some time to produce steam. If your unit has a "steam ready" indicator system then wait for it.
Step 4: Hang your garment in the hanger and select the appropriate steam setting.
When your steamer is ready for steaming, hang your tulle fabric in the hanger. Next, hold the stem nozzle a few inches away from your clothing and select the lowest setting and then start steaming.
Step 5: Begin steaming the Tulle fabric:
You can start applying steam section by section of your tulle. Since tulle is a very thin fabric so instead of applying steam the individual layers, you can steam 2 layers at one go( by holding them together). This'll save your time and hard work.
The Final Step:
You must stop steaming the fabric once the wrinkles have been removed completely. And let it air dry for some time.
How To Remove Wrinkles From Tulle With An Iron?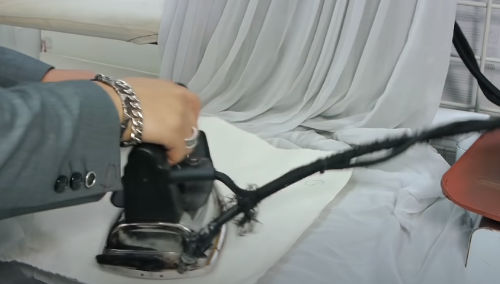 If you don't have any clothes steamer available in your house, you can remove the wrinkles and creases from tulle by using an Iron with steam setting.
Begin by preparing your ironing board. Cover it with a clean, lint-free cloth. If you're using an iron with steam, make sure the ironing board is covered with a towel to prevent moisture damage.
Select the right heat setting (silk/polyester) of your iron especially for the tulle. You can find this information on the care label of your garment. If your iron has no preset options for delicate fabric then you must select the lowest heat setting.
Now, lay out the tulle across the ironing board. Take your hand to smooth it as flat as you can. This'll help to remove some creases and folds from it.
Put a microfiber clothes (for ex. a pillow case) on top of the tulle fabric. This will protect the fabric from the direct heat of the iron.
Begin ironing the tulle in small sections, using a light touch.
Once you've finished ironing, hang the tulle garment up to air dry. Do not put it in the dryer, as this could damage the fabric.
How To Get Wrinkles Out Of Tulle By Using Steam from a Kettle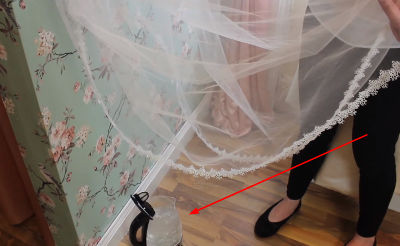 This method is for those who doesn't have any steamer or iron. It works better than many steaming hacks that you may know about.
First of all, you should pour some water in a kettle. Make sure, the opening of the kettle is large enough.
Next, hang your tulle dress from a high object. You can use a hanger or a clothesline for that purpose. But, make sure the clothes does not slip over.
Now, put the kettle underneath your clothing and plug it in to boil water. Once boiling is completed, put off the lid from the kettle and let the hot steam come out. The steam will reach the cloth and penetrate its fiber to release wrinkles.
Continue the process for about 15 minutes. After that, let the clothe hang in a hanger to cool down.
How to Keep Tulle Dress From Wrinkling?
Follow these simple tips to prevent wrinkles in your tulle dress.
Always use on a padded hanger instead of wire hanger when you store tulle in a closet. This will prevent wrinkles in your tulle.
When travelling with your tulle dress, roll it instead of folding it. This will help prevent creases and wrinkles.
You should never store your tulle fabric into a closet right after steaming or ironing it. Give it some time so that, the fabric can relax and get back to its original shape
When you're steaming tulle, be careful not to get the fabric too wet. Too much wet can cause wrinkles.
Don't store your tulle fabric in an overstuff closet.
Frequently Asked Questions:
Can I Put Tulle in The Dryer?
No, it's not advisable to put tulle in the dryer. The high heat from the dryer could cause the tulle to become brittle and lose its elasticity. It's a better idea to hang the tulle to air dry.
Can You Use a Steamer On Tulle?
Yes, you can use a steamer on tulle to remove wrinkles. In fact, it's the safest of all other methods. However, make sure to avoid getting the steamer too close to the fabric, as the heat could cause it to melt.
Can You Wash Tulle?
You can, but it's not recommended. Tulle is a very delicate fabric and washing it can ruin the shape and texture. If you need to wash tulle, use a mild detergent and hand wash it in cold water. You should never use bleach or any strong detergent to wash tulle.
After washing the tulle, hang it to dry, avoiding direct sunlight or heaters, as this can cause the fabric to become yellow. Once dry, gently steam tulle to remove wrinkles.
Can I Use Wrinkle Releaser On Tulle Fabric?
Yes, you can use wrinkle releaser on tulle fabric; however, it's important to test the product on an inconspicuous area of the fabric first to ensure that it doesn't cause any discoloration or damage.
Related Posts: