Last Updated on November 12, 2022 by Erik Sullivan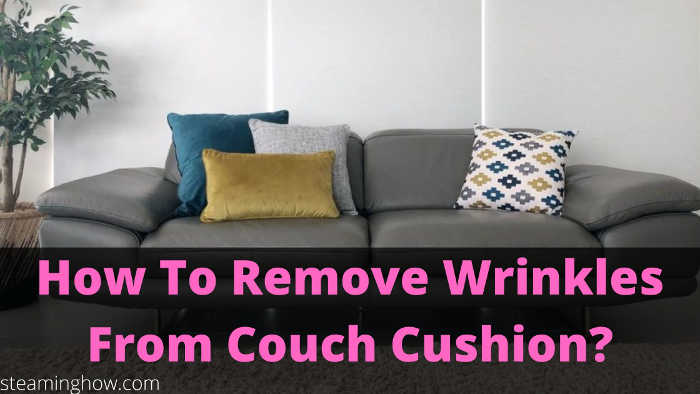 Who doesn't love a nice, comfy couch? It brings warmth, character and comfort to your home.
In fact, it's the perfect place for a lazy day of reading, watching TV or just taking it easy after work!
But after a while, those cushions seem to get a little wrinkled which is very unpleasant. And, if you're caring about your sofa, you want to get those wrinkles out of there as quickly as possible. But how can you do that?
Well, I'm here to show you, how to get wrinkles out of couch cushions quickly and efficiently.
But, before going to the step by step process lets find out why your cushion get wrinkled. This information will help you to keep your cushion looking pristine by reducing wrinkles and creases.
Why Does My Couch Have Wrinkles?
Your couch cushions can become wrinkled for following reasons.
Low Fabric Quality:
If your couch is made with low-quality fabric, it is more likely to wrinkle. Lower-quality fabrics are typically thinner and less durable, which means they are more susceptible to wrinkling. However, even the best-quality fabrics can wrinkle if they are not maintained properly.
Exposure to Direct Sunlight:
This is one of the most common reasons why couch cushions become wrinkled. Direct sunlight can cause the fabric to stretch and warp, which will eventually lead to wrinkles.
Irregular plumping:
Your cushions can also get wrinkles if you haven't plumped them up in a while. Plumping up your couch is important to maintain their shape and keep them looking full. If you don't plump your cushions regularly, they can begin to look lumpy and misshapen. Here's a quick helpful video.
Washing Your Couch Cushions:
Washing your couch cushions is a great way to keep them clean, but it can also cause wrinkles. The heat and moisture from the washing machine can cause the fabric to shrink and wrinkle.
Humidity And Temperature Changes Affect the Leather Couches:
If your couch cushion is made of leather, it'll respond to humidity and temperature changes in the environment.
It's a common characteristic of most leather products including shoes, bags, cushion etc.
Therefore, during the hot and humid condition the leather cushion stretches out as the heat evaporates the natural oil that is present in the leather. Consequently, the leather loses its moisture and gets creases.
When it is cool and dry, the leather couch will shrink. Because, the cold weather hardens the moisture in the leather making it stiff. This can also cause wrinkles in the couch cushion.
In addition to that, leather couches wrinkle because the leather is not a very tight material. Over time, as the couch is used, the leather stretches and wrinkles as it becomes looser.
General Wear and Tear:
Over time, your couch cushions will inevitably become wrinkled from normal use. Sitting, lying down, and even just leaning on your couch can cause wrinkles to form.
Whatever the reason, wrinkles in couch cushions are not only unsightly, but they can also be uncomfortable.
How to Get Wrinkles Out of Couch Cushions?
If you have wrinkles in your couch cushions, there are a few effective methods that you can apply to get them out. We'll show you the exact step by step process in detail.
Before You Begin:
Before get started you should make sure a few thing to get your desired result:
Vacuum Your Couch to Remove Dry Particles:
Before you begin to steam your cushion, you must clean its surface with a vacuum cleaner. Use a soft brush attachment with the vacuum cleaner. Vacuuming will remove most of the dirt, dust, and pet hair from your sofa. Make sure to vacuum all the sides of your couch.
Pretreat Any Heavy Stains and Marks:
If there're any spots or stains on your cushion, you need to remove them also. Otherwise, the stain will get set into the fabric. Here's how to do it correctly:
First, pour 1/4 cup of vinegar in a small bowl and then add ¾ cup warm water and 1 tbsp dishwashing soap in it. After that, put the mixer into a spray bottle and gently shake it.
Now, spray the mixer across the stained area properly. Next, scrub gently the area with a soft cloth. Lastly, use a piece of damp clothe to remove the residue from the cushion. Let it air dry with a fan.
For leather fabric, you can mix ¼ cup vinegar with ½ cup olive oil. Spray the mixer over the spots. And buff it with a soft cloth.
How to Get Wrinkles Out of Microfiber Couch?
You can get wrinkles out of your fabric couch cushion successfully with a clothes steamer. On top of that, a steamer can also remove mold and bacteria from the sofa and other upholstery. The process is very simple, and you can have your couch looking its best in no time!
You'll only need a clothes steam cleaner and some distilled water to get wrinkles out of your cushion. When you're ready follow the instructions below.
Step 1: Buy/Rent a steam cleaner or a steamer:
Before you get started, you'll need a steam cleaner with upholstery attachment. This tool is highly effective for removing stubborn wrinkles from various upholstery.
If you don't have any upholstery steam cleaner then, you can use your existing garment steamer or any travel steamer to get the job done.
Step 2: Get The Steam Cleaner Ready:
Fill the steamer with distilled water and turn it on to produce steam. Give it some time.
Step 3: Select the Lowest Heat Setting and Begin Steaming the Cushion:
We recommend selecting the low heat setting of the steam cleaner to avoid any damage to the fabric. You can begin steaming the bigger cushion first to make the process easier. Hold the steamer nozzle close to the couch. (Do not let water drip onto the fabric)
Release steam and keep moving the steamer head slowly from one section to another. Pay special attention to the most wrinkled part of your cushion.
If the cushion is heavily wrinkled you can use a soft towel to push the wrinkles during the steaming period.
Apply steam on all sides of the cushion.
Step 4: Let the cushions dry completely:
After steaming the cushions you should let them air dry.
How Do You Get Wrinkles Out Of a Faux Leather Couch?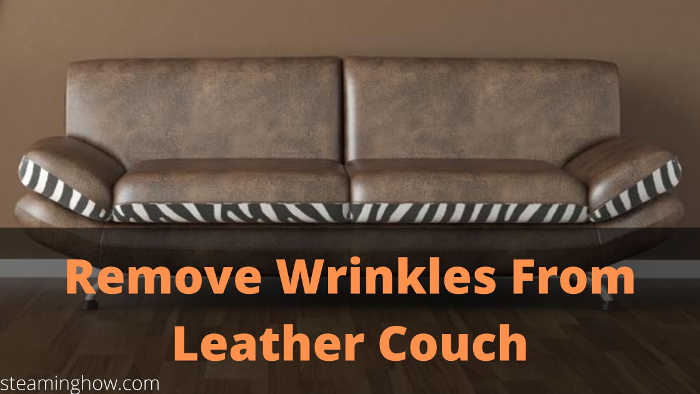 Follow the instructions below to remove wrinkles from your new leather couch cushion.
You'll need a heat gun to efficiently remove wrinkles and dents from your leather faux couch.
Hold the heat gun at least 6" higher than the cushion to avoid burning. Select the highest setting.
Continue heating the wrinkled areas until the wrinkles are completely gone.
Alternative of heat gun method:
If you don't have any steamer or heat gun available in your house, you can apply the following hack to get rid of those wrinkles from your leather upholstery including couch. Here's how to do it:
You'll need the following items:
A small but deep container (oven proof)
Follow the steps:
Step 1: Take some towels (4-5 pieces) and roll them up.
Step 2: Put the towels into a bowl/container.
Step 3: Pour enough water into the container.
Step 4: Deep the towels into the water completely.
Step 5: Place the container inside an oven.
Step 6: Turn on the oven and set a timer for about 5 minutes.
Step 7: After that, get the container out of the oven.
Step 8: Now, place the hot & damp towels across the couch cushion.
Step 9: Leave the towels to sit there for a few moments.
Step 10: After that, remove the towels from the cushion. And you'll notice that the wrinkles are gone.
Frequently Asked Questions:
How Do You Smooth Out Couch Cushions?
There are a few different ways that you can apply to smooth out couch cushions. First, use a vacuum cleaner with the upholstery attachment. This will help to remove any dirt or debris that may be causing the cushions to be lumpy.
Another way is to place the cushions in the sun for a few hours. The heat will help to loosen any fibers that may cause the cushions to misshapen.
Finally, you can try using a steamer on the couch cushions. This will help to loosen any wrinkles or creases in the fabric.
What is A Comfort Wrinkle in Upholstered Furniture?
Comfort wrinkles are simply wrinkles that form in upholstered furniture that has a soft seating and back support. These wrinkles build up on your upholstery as a result of daily use.
They're usually not a sign of any kind of damage or poor quality of the fabric, and they'll disappear over time with regular use. In most cases, comfort wrinkles are simply a cosmetic issue and don't affect the furniture's overall structure or durability.
However, if you're concerned about them, you can steam the affected areas to remove the wrinkles.
Is it normal For leather seats to wrinkle?
Yes, it is normal for leather seats to wrinkle. Leather is a natural material, and as such it will change shape over time as it ages. This is especially noticeable in areas that are regularly used or stretched, such as the seat backs and armrests on a car seat.
Related Posts: