Last Updated on November 3, 2022 by Erik Sullivan
When it comes to keeping your home sparkling clean and free of allergens, one of the most important tasks is cleaning your walls and ceilings. Because, these are the first place you'll see signs of mold or mildew growth.
However, many people don't know how to clean walls properly or what products to use. Well, steam cleaning can help you further.
In this blog post, we will provide you with a step-by-step guide on how can you steam clean walls as well as some other best methods of cleaning your walls and ceilings.
Can You Steam Clean Walls?
Yes, you can. Steam cleaning is an effective way to clean and sanitize your walls and ceilings. The high temperature of the steam will kill any bacteria or mold that may be causing the smell or stain.
The heated steam also loosen any dirt or dust that may be stuck into the wall. In fact, the steam is so powerful that, it can even eliminate extreme smoke smell and yellowing from your walls.
However, you must test a small hidden area of the wall first to make sure that the steam does not cause any damage.
Will Steam Cleaner Damage the Wall Paint?
Yes, it is possible that a steam cleaner could damage wall paint, depending on the type of the paint and the steaming time. Many paints are designed to be resistant to moisture, such as full-gloss and semi-gloss paint.
If you steam any particular area of the wall for too long then chances are high that the extreme temperature, and moisture could reduce the paint lifespan.
However, our guideline will help you to steam clean walls safely and efficiently. Before going to the step by step process of steam cleaning, you must do some prep work:
Before Steam Cleaning Your Walls:
Selecting the right steam cleaner for wall and ceiling:
Before you steam clean walls, you must select the most suitable steam cleaner to get the job done effortlessly. I suggest, to go for a steam cleaner that comes with following features and functionalities:
a) Adjustable steam output: For better control over the steam temperature.
b) Extension pole: This attachment will help you to steam clean higher areas of the wall.
c) Cleaning Brush or floor tool: To apply steam on your walls and ceiling.
d) Microfiber mop pad: This is a great attachment that will protect your walls from extreme heat and moisture.
e) Large water tank: The bigger the better. Usually, a large water tank will allow you steam clean your walls and ceiling without refilling it more frequently.
Prepare The Walls and Its Surroundings:
The next thing that you should do, is to eliminate any loose dirt and dust from your wall. You can either use a broom or a vacuum cleaner to clean the wall from top to bottom. Don't forget to vacuum the corners as these are the areas where dirt and dust often found.
Also make sure to remove any upholstery, fireplaces, wall paintings or any other objects from the wall.
How to Steam Clean Walls (step by step)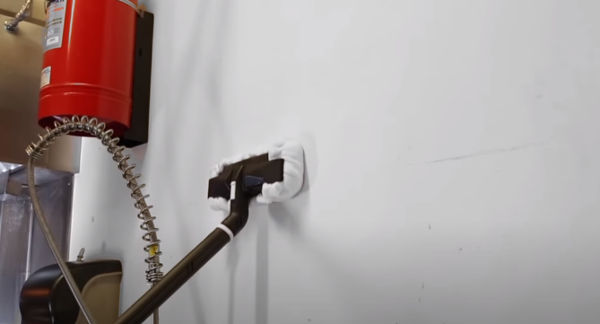 Step 1: Wrap the cleaning brush or floor tool of your steam cleaner with the microfiber mop pad.
Step 2: Next, connect the extension pole with the brush. The longer the pole the higher you can reach.
Step 3: Fill up the steam cleaner tank with water. And turn it on to produce steam. This process may take a few minutes.
Step 4: Select the medium heat setting.
Step 5: Start steaming the wall by moving the steam cleaner in a back and forth motion, making sure to cover all areas of the wall.
Step 6: Dry the wall with a clean towel or cloth after steam cleaning. Do this immediately after steaming to prevent water marks on the wall.
What's the best steam cleaner for walls?
I would like to recommend the following two options to consider.
1. Dupray Neat Steam Cleaner
2. Wagner Spraytech On-Demand Steam Cleaner
Both of the unit does a great job to steam clean your walls and ceilings effectively and efficiently. Besides that, they're so powerful that can remove even the nicotine, old mold, harmful bacteria, and seasonal viruses.
Why Should you Steam Clean your Walls?
Steam cleaning is a great way to get rid of stubborn stains or built up grime on walls. The process also reduce the mold growth in your walls, and improve indoor air quality.
It's also a chemical-free and eco-friendly cleaning method that does not only deep clean your wall surface but also disinfect them.
A Steam cleaner can reach hard-to-reach spots and crevices, making it an efficient and thorough cleaning session.
Steam cleaning allow you to clean your walls and ceilings in less effort and time.
The process uses very little water, so your walls will dry faster than tradition cleaning methods. In fact, steam cleaning wall does not leave any water mark on it.
What is the Best Way to Remove Cigarette Smoke From Walls?
Steam cleaning is one of the most efficient ways to clean smoke off walls. But, you can also try the following hack to remove smoke from walls naturally.
Things you''ll need:
A piece of microfiber clothe
Instructions:
1. Fill up your bucket with normal water.
2. Next add white vinegar into it. (Use 1 tbsp of vinegar for every gallon of water). White vinegar is very effective to cuts through smoke odor naturally.
3. Next, get a cleaning mop and attach a piece of microfiber clothe with the mop.
4. After that, damp the mop into the solution and begin cleaning the wall surface from the very top.
5. If there're any tough stain in your wall, then rub it gently with a sponge.
Frequently Asked Questions:
Will steam clean wall remove cigarette smoke?
Yes, steam cleaning will remove cigarette smoke from walls. The high heat and moisture of the steam will help to loosen the nicotine and other contaminants from the surface of the wall, making them easier to clean away.
However, it is important to note that some nicotine and other residue may still be left behind, so it is recommended that you follow up with a good quality cleaner or paint sealant to help protect the surface.
Can you steam clean walls before painting?
Yes, you can steam clean walls before painting. Steam cleaning will remove excessive dust and greasy stains from the walls. It ensures that, no dirt and dust can get into your new paint.
Can you steam clean plaster walls?
Yes. It is possible to steam clean plaster walls, but it is not recommended because the high heat and moisture can cause the plaster to deteriorate and fall off of the wall. If you need steam clean your plaster walls, make sure to use a very low moisture setting and keep the steamer moving constantly so that it does not stay in one spot for too long.
Related Posts: