Last Updated on July 14, 2022 by Erik Sullivan
If you're like most homeowners, you rely on your steam cleaner to take care of all your tough cleaning jobs. From removing grime and dirt to killing germs and bacteria, there's nothing a good old-fashioned steam cleaner can't handle.
But what are some creative ways you can put your steam cleaner to use? So, let's check what the best uses for steam cleaners that you may not have thought of before!
Brilliant Steam Cleaning Hacks And Ideas That Are Surprisingly Useful
Here are 26 steam cleaning hacks for indoor and outdoor.
1. Remove Build Up From Your Grout
Over time, your grout can become stained and discolored. Instead of spending hours scrubbing away at it with a brush, try using your steam cleaner! The high-pressure steam will quickly break down any dirt or grime that's built up on your grout, making it easy to wipe away. The best thing of using a steam cleaner is that, it causes no discoloration of your grout.
2. Clean Your Windows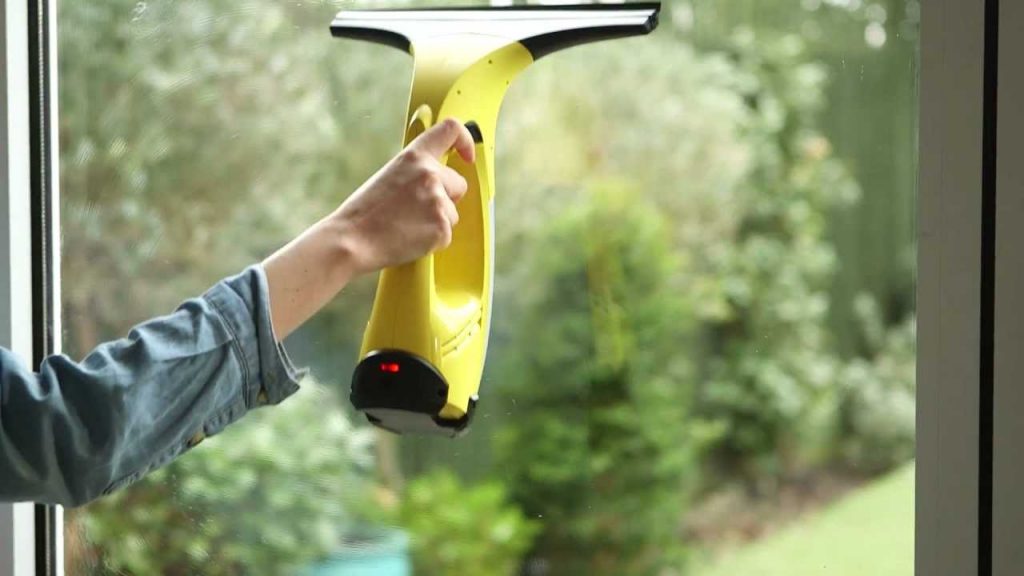 Steam cleaners are a great way to clean your window glasses and tracks. The high-pressure steam will remove any dirt, grime, or fingerprints from your windows, leaving them sparkling clean. After applying steam don't forget to use a microfiber cloth to wipe the glasses. The process is 100% environment friendly and safe to use around kids and pets.
3. Cleaning Ovens Interior
You must clean your oven cavity periodically to prevent any buildup. Cleaning it with a steam cleaner is the quickest and easiest way to remove all that built-up grime, without using any harsh chemicals. Before steam cleaning your oven cavity, you should use a scrapping tool to clean off any loose debris from the surface.
Next, you'll need to vacuum up the debris with a handheld steam cleaner. The final step is to use a steam cleaner with the right attachment.
4. Clean a Greasy Stove Top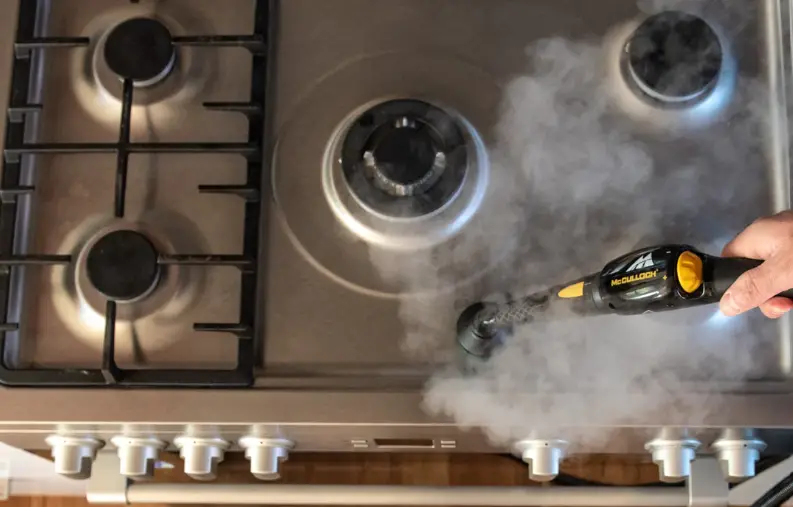 The stovetop can be one of the hardest places in your kitchen to keep clean. Food spills, grease splatters, and burnt-on grime can make your stovetop look less than its best. But did you know that steam cleaning your stovetop can help to keep it looking shiny? The high pressure steam will break down the dirt and grease, making it easy to wipe away with a paper towel.
5. Cleaning and Sterilizing Glass Shower Doors and Tracks
One of the most common uses for steam cleaners is to clean and sterilize glass shower doors and tracks. Over time, these surfaces can become covered in soap scum, water spots, mildew, and other grime. Steam cleaners can quickly and easily remove all of those build-up, leaving your shower doors looking like new again.
6. Cleaning Patio Door Tracks
Another common use for steam cleaners is to clean patio door tracks. Just like shower doors and tracks, patio door tracks can become covered in dirt, dust, and grime over time. Steam cleaning will remove all kinds of build-up and leave your patio doors sliding smoothly again.
7. Remove Tough Stains From Countertops And Disinfect It
If you have a busy kitchen, then you know how important it is to keep your countertops clean. But sometimes, no matter how often you wipe them down, they can still looks stained and dirty. That's where steam cleaning comes in.
A steam cleaner disinfects your countertops and kill any bacteria that may be lurking there. To clean hard to reach places, like under the sink or in between appliances, attach a small brush attachment to the end of your steam cleaner.
8. Refresh and Sanitize Your Kids Toys
If you have children, chances are their toys are covered in germs. Therefore, you must keep them clean on a regular basis. A quick blast of steam from your cleaner will kill any bacteria or viruses that may be hiding on their toys, keeping them safe and healthy.
9. Remove Hard Water Build Up On Faucet
Hard water can leave a chalky film on your fixtures, making it difficult to remove by everyday cleaning. A steam blast will quickly break this water deposits down and eliminate it.
10. Cleaning Pet Cages
If you have pets, you know that their cages can get pretty dirty, pretty quickly. Cleaning pet cages made from metal wire is one of the best uses for steam cleaners because they can reach all of the nooks and crannies that regular cleaning brushes might miss.
11. Removing Algae And Mold From Your Patio
If you want to remove algae and mold from your patio steam cleaning can be a great solution. The high pressure of steam eliminates all types of biological growth as well as prevents their regrowth.
12. Sanitizing Sinks And Faucets
The kitchen sink, in particular, can be a breeding ground for harmful bacteria. According to a recent study there are more than 13,000 bacteria per square inch on a kitchen sink faucet! Steam is the most effective way to clean and sanitize your sinks and fixtures. The superheated steam penetrates and kills bacteria, mold, and other microorganisms without using any chemicals.
13. Disinfecting Toilet Seats and Hard to Reach Areas
Cleaning and sanitizing your toilet can be difficult if you don't use any proper cleaning method. The good news is if you have a steam cleaner in your home you can use it to clean your toilet tank, bowl, lid, hinges etc. Just make sure that the device comes with a wand and steam nozzle attachment for easy reach of tricky places.
14. Remove Wall Paper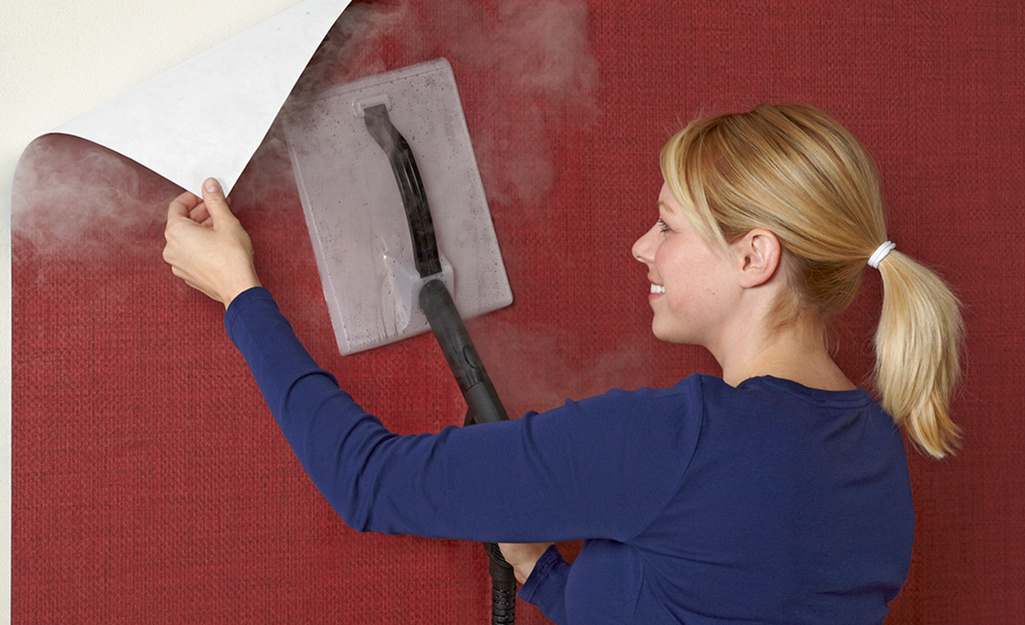 When it comes to removing wallpaper, steam is one of the most effective methods. This is because steam can penetrate the wallpaper and loosen the adhesive, making it much easier to remove. Well, you don't need to use any heavyweight steam cleaner to remove wallpaper. A clothes steamer can do the job quickly and efficiently.
15. Cleaning Clothes And Remove Wrinkles From It
If you have clothes that need to be relaxed before they can go out of season, a steamer is the perfect solution. A steamer can quickly remove even deep wrinkles from your garment without using heat. Plus, it's gentle enough to use on delicate fabrics like silk and wool. Steaming clothes also clean them by removing surface debris.
16. Pest Control
Steam can be an effective pest control method, particularly for small insects that are hiding in your kitchen and bedroom. The high temperatures generated by a steam cleaner can kill bed bugs and their eggs instantly.
Additionally, steam can penetrate into small cracks and crevices where pests may hide, killing them even in hard-to-reach areas. However, to get the best result you should use a commercial grade steam cleaning machine that comes with an upholstery or floor attachment.
17. Cleaning ceiling fan
Cleaning a ceiling fan is one of the most challenging task because of the fact that they are often hard to reach. Therefore, you can use a steam cleaner with telescopic wand that'll reach the fan and loosen any dirt or grime on the blades and make it easier to wipe away. Be sure to steam clean both sides of the blades for best results.
18. Cleaning BBQ Grills
Steam cleaning is the most effective and the safest ways to remove any food residue that may be stuck to your BBQ grill. There are some multi-purpose steam cleaner like- The Bissell SteamShot that includes a special brush attachment for steam cleaning your Grill grates.
Tip: For the best result use quality simple green BBQ cleaner on both sides of the grates. Let it sit there for about 5 minutes. This will help to loosen greases from the grill basin.
19. Deep Cleaning Of Your Mattress
You should clean and sanitize your mattress to keep it free from dust mites, bacteria, and other allergens. Steam cleaning is a great way to clean your mattress and get rid off these unwanted guests. You can use a garment steamer or an upholstery attachment of a steam cleaner to clean your mattress. Just make sure that you don't over-wet the mattress and that you dry it thoroughly after cleaning.
20. Cleaning Upholstery, Pillows, Cushions
Cleaning and maintaining your sofa is a must if you want it to last for years. Only Vacuuming is not enough to get rid of all the dirt, dust, and other allergens that accumulate in the fabric. You should also deep clean it with a steam cleaner for the best result. Not only will it clean your sofa, but steam cleaning is also a great way to disinfect and deodorize it.
However, before applying steam on your sofa, you must read the manufacturer's recommendation about the cleaning and washing process.
21. Deep Cleaning Of Curtains And Drapes
Curtains and drapes can significantly enhance the appearance of a room. However, they often get overlooked because they're not as visible as other items, but they can quickly become covered in dust and dirt. Traditional methods such as vacuuming can leave behind dirt and dust, and washing them by hand can be time-consuming and difficult.
A steam cleaner is a great way to clean curtains and drapes without taking them down. The process is relatively easy to do by using your cloth steamer or any upholstery attachment. Make sure to read the manufacturer's guidelines about steam cleaning it.
22. Cleaning The Exterior of Boats
Boats exterior is often full of grime, salt and other oceanic and water invaders that can be difficult to remove with traditional methods like pressure washing. Using high powered steam from a commercial steam cleaner, you can effectively clean boats exterior without damaging the surface.
23. Cleaning Non-skid Surface
A non-skid or no-slip surface is very difficult to clean with a brush since they've an uneven texture. Steam cleaning is the best method to clean this kind of surface.
24. Disinfecting Public Transport
Steam is the primary disinfecting tool that can be used to disinfect and sanitize various public transport, especially their seating. Most aircraft companies prefer steaming over other cleaning methods to clean the glass of an airplane for clear vision.
25. Cleaning Gardening Tools
Gardening tools are often prone to rust, dirt, and grime which can make them difficult to use. A steam cleaner is a great way to clean garden tools, as it will remove all those sticky residue quickly and easily. You need to apply high heat of steam (180-200 °F) for about 15 mins to effectively remove those build ups from the tools.
26. Removing Weeds From Your Backyard And Garden
Weeds can be a nuisance in gardens, yards, and public spaces. One of the best ways to control weeds is to remove them physically from the ground. Some people use boiling water to remove them. But this process can be time-consuming and labor-intensive, especially if the area is large.
A steam cleaner can be a useful tool for removing weeds quickly and efficiently. The high temperature of the steam kills the weed's cells and dries out the plant, causing it to wilt and die. To be most effective, the steam should reach temperatures of at least 120 degrees Fahrenheit.
Final Words
As you have seen, there are many creative ways of using a steam cleaner at home and outdoors. The effectiveness of steam is indisputable, and the safety features make it a great choice for cleaning all sorts of surfaces. However, there are some limitations to keep in mind when using a steam cleaner. By understanding these, you can get the most out of your steamer and clean any surface quickly and easily!
FAQ
Can I use a steam cleaner on all surfaces?
Most steam cleaners are versatile and can be used on a wide range of surfaces, including sealed floors, countertops, tiles, upholstery, and more. However, it's essential to check the manufacturer's guidelines for specific surface recommendations.
How hot does the steam from a steam cleaner get?
The steam from a steam cleaner can reach temperatures between 200°F to 300°F (93°C to 149°C), ensuring effective sanitization and cleaning without the use of chemicals.
Can a steam cleaner kill bacteria and allergens?
Yes, steam cleaners are effective at killing bacteria, germs, and allergens due to the high-temperature steam. They are particularly useful for individuals with allergies or asthma as they can help reduce allergens in the home.
Can a steam cleaner be used to clean electronics and appliances?
Steam cleaners should not be used on electronics and appliances, as moisture can damage sensitive components. Stick to using steam cleaners on non-electronic surfaces and materials.