Last Updated on October 5, 2022 by Erik Sullivan
So, you're getting some really bad odors from your clothes steamer. Even, your clothes smell bad after steaming them with the steamer.
Wondering, why does your clothes steamer smells bad? Let's find out:
Why Does Clothes Steamer Smells Bad?
There're some key factors which can cause bad smell in your steamer.
Mineral Deposits Inside The Tank:
If you have hard water in your area, then the build-up of minerals is quite common in your steamer. The high concentration of minerals results in a bad smell.
Stagnant Water:
If you don't empty the water tank after your steaming session, then the water inside the tank becomes stagnant. This results in the growth of bacteria and mildew, which causes a bad smell.
Improper Rinsing Of The Tank After Descaling It With Vinegar
Your clothes steamer can smell bad if you don't rinse the tank properly after using vinegar to descale the minerals buildup.
Fortunately, there're some quick but most effective hacks that can help you remove that funky smell from your steamer. However, I recommend to stop using your steamer until it's free of that unpleasant smell.
How Can I Get The Bad Smell Out Of My Clothes Steamer?
There are a few things that you can do to remove the bad smell from your clothes steamer:
Clean And Descale The Water Tank:
The first and foremost thing that you need to do is to clean the water tank of your steamer.
Things You'll need First: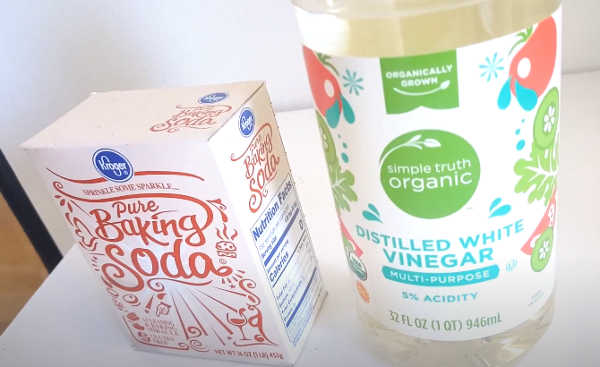 Step By Step Process:
Step 1: Empty the water tank, remove the lid, and rinse it with fresh water to remove as much dirt as possible.
Step 2: Pour a cup of distilled white vinegar into the tank.
Step 3: Add a cup of water into the tank. Use distilled water if your tap water is contaminated.
Step 4: Add 2 tbsp of baking soda with the mixer.
Step 5: Seal the lid tightly and gently shake the tank so that the mixer is evenly dispersed and cover the crusty parts.
Step 6: Plug in your steamer and turn it on to produce steam.
Step 7: Keep the steamer boiling for an hour.
Step 8: After an hour or so, simply drain out the solution completely.
Step 9: Rinse the tank with tap water.
The above method will eliminate mineral deposits from the steamer tank.
Clean the Steamer Hose And Nozzle:
After removing mineral and limescale from the tank, you'll need to clean the other parts of the steamer like-hose, brush, and nozzle.
First, detach the nozzle and brush attachment from the main unit. Fill a tub with hot water and add dish soap in it. Mix it properly.
Next, soak the nozzle, and fabric brush into the solution for a few hours. After several hours, wipe down them with a clean towel.
Lastly, rinse them with clean water. Make sure to dry them completely before putting them back to the steamer.
If you've a standing clothes steamer than it must include a long hose attachment. Overtime, minerals and other dirt can also buildup inside this hose.
To clean it, detach it from the base. Now, flush it with enough water from your kitchen sink. This will remove any grime inside the hose. Do this multiple time to eliminate the buildups completely.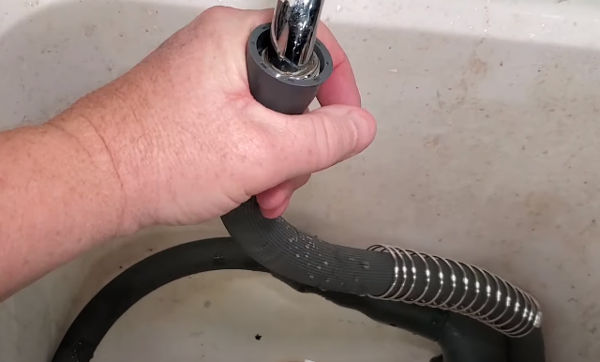 N.B: You should never soak any electrical parts of the steamer, for example- the heating element or the steam button.
How Do You Get The Vinegar Smell Out Of a Steamer?
If you use vinegar in your steamer chances are, you'll get some pungent smell from it. In fact, the smell is so strong that can also affect your clothing. Therefore, you'll need to get rid of that vinegary smell as soon as possible. So, here's the trick:
Note: The process should be done at the outside of your house to keep the bad smell away.
Fill in the tank with just distilled water and plug in the steamer.
Next, turn on the steamer to produce steam.
Let the clothes steamer run for about 30 minutes or so.
After that, turn off the steamer and let it cool down.
Drain out the remaining water from the tank. And let it dry.
The above process will eliminate that vinegary smell completely.
How to Maintain Your Steamer to Prevent Bad odor?
Well, prevention is better than cure. That means, you should take proper steps so that your steamer can be odor free.
First of all, you must use distilled water, if your water is heavily contaminated with various minerals like- calcium, magnesium etc. This is called hard water that often causes buildup of solid deposits of calcium carbonate when heated. Overtime, this buildup causes stink in your steamer.
Make sure to rinse your clothes steamer with fresh water after steaming. Before storing it away, you must empty and dry it completely.
You should never put detergent or any kind of dish soap in your steamer.
If you've used vinegar for eliminating mold from your steamer tank, then you must expel the vinegar deposits from the tank. Because, vinegars smell is really pungent. Pour some distilled water in the tank and run the steamer in high setting to drain all the water from the tank. This will remove the vinegars odor.
Related Posts: