Last Updated on October 9, 2022 by Erik Sullivan
Can you use a garment steamer to clean carpet?
The short answer is yes!
You can definitely use a garment steamer to spot clean your carpet as well as sanitize and disinfect it. However, try to use a standing cloth steamer. It'll make the job so much easier and faster.
In this step-by-step guide, we will teach you how to use a garment steamer to clean your carpets without any hassle.
We will also share some useful tips on how to prepare your carpet for steam cleaning, and how to dry it afterwards.
Before Steam Cleaning Carpet Vacuum It Thoroughly: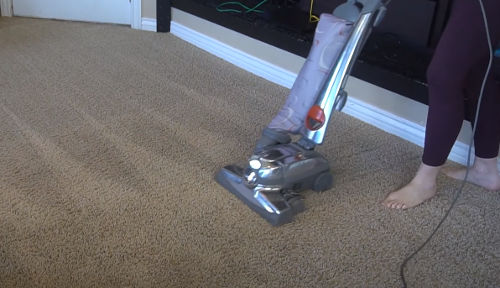 Before steam cleaning your carpet, you should vacuum it to remove any loose dirt, debris, and pet hair. Make sure to go over each area multiple times to get all the dirt and dust out. Otherwise, steam cleaning won't be that effective.
Pretreat Hard to remove stains (If exists)
If there any tough stains on your carpet, make sure to gently treat it before applying steam. We recommend to use natural solution to remove the stains. You can try using a mixture of vinegar and water to remove the stain. Vinegar is a natural cleaning agent and will not damage your carpet.
Simply apply the vinegar and water mixture to the stain and blot it with a clean cloth. Repeat this process until the stain is gone.
How to Use a Garment Steamer to Clean Carpet (Step By Step)
Tools Required:
A Garment steamer
Distilled water
A piece of white cloth
The step by step process of cleaning and deodorizing carpet:
Step 1: Refill your steamer tank:
Refill the tank with distilled water and turn on the steamer to produce hot steam. Don't overfill the tank.
Step 2: Start steam cleaning carpet with the cloth steamer
To use a garment steamer to clean your carpet, simply hold the steamer nozzle close to the carpet and move it back and forth. The powerful steam will loosen dirt, stains, and grime making them easy to remove. Now use a piece of white cloth to wipe away the melted stain from the surface.
Step 3: Let the carpet dry
After you have finished steam cleaning your carpet, you should allow it to dry completely. You can speed up the drying process by opening any nearby windows or using a humidifier. Most carpets usually take about 6-8 hours to dry completely. Once your carpet is dry, you can vacuum it again to remove any residual dirt or stains.
Benefits of Using A Cloth Steamer On Your Carpet:
A cloth steamer is a versatile cleaning tool in your home. It not just remove wrinkles from your cloth, but also clean and disinfect mattress, sofa, upholstery, and carpet. Below, we've discussed some key benefits of using your cloth steamer on your carpet.
One of the cost effective ways to Clean Carpet:
This is the most cost effective ways to clean your carpet stains and remove bad odor from it. Some clothes steamers can efficiently remove dust mites from your carpet. You don't need to buy or rent a full size steam cleaner.
It's more effective than many high-end steam cleaners:
Even the best steam cleaners can't reach all of the dirt and dust that gets trapped in your carpet. A cloth steamer equipped with smaller nozzle which is able to reach tight spots and corners of your carpet to efficiently remove dirt and grime.
Easy to apply steam:
A cloth steamer is very lightweight and they don't use any hose attachments to release stem. Therefore, a senior person can effortlessly hold it and treat daily messes on carpet.
Final Words:
If you're looking for a quick, easy, and effective way to clean your carpet, then a cloth steamer is the way to go. Not only is it more thorough than vacuuming, but it also disinfects and is gentle on your carpet. Plus, it's fast and easy to use. So why not give it a try?
Related Posts