Last Updated on October 20, 2022 by Erik Sullivan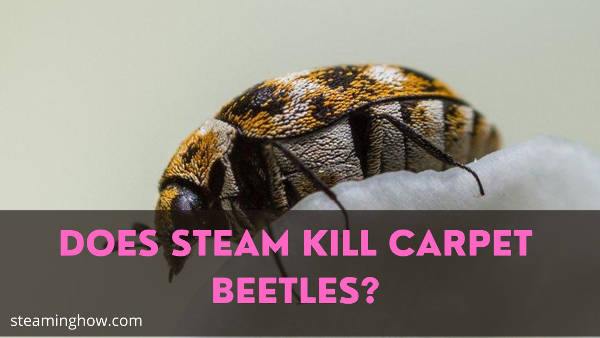 Carpet beetles are common household pest that cause a lot of damage to your property including- sofa, fabrics, beddings, carpets etc.
While there are various ways to get rid of these pests, many homeowners prefer to apply non-chemical method.
Steam cleaning is one of the most effective, and chemical free method that has been used for a long time to eliminate various infestation in your house.
But, does steam kill carpet beetles and their larvae as well?
Does Steam Kill Carpet Beetles and Larvae?
Yes, steam cleaning is highly effective against carpet beetles and their eggs from various surfaces.
The high temperatures of steam can destroy the carpet beetles larvae and the eggs on contact. According to a recent publication of University of Florida, exposure to 105°F-120°F for four hours is enough to eliminate carpet beetles and their larvae.
Note that, a household steam cleaner can easily produce steam up to 200°F. Therefore, you can use this machine to eliminate carpet beetles from your home. And the best thing about steam cleaner is that, it's safe for most of the surface in your home.
However, when using steam to kill carpet beetles, make sure to focus on areas where the insects are likely to congregate, such as under furniture or in dark corners.
What are carpet beetles?
Carpet beetles are small insects that are often brown or black in color. They get their name from their tendency to infest carpets, where they feed on the fibers. Carpet beetles can also be found in other areas of the home, such as in clothing or upholstered furniture.
An adult carpet beetles can be 1/16 to 1/8-inch long and has oval-shape. They usually feed on pollen, nectar etc. Where, their larvae feed on animal produces like- wool, silk, leather etc.
What're the signs of carpet beetles?
The best way to tell if you have a carpet beetle infestation is to look for the telltale signs of these pests. These include:
Small, round holes in fabrics such as clothing or carpeting
Tiny beetle larvae crawling around on surfaces
What Causes Carpet beetles in your home?
Carpet beetles are attracted to homes that have a lot of fabric, such as carpets, clothing, and upholstered furniture. These insects can be brought into your home on second-hand items, such as clothing, furniture, beddings etc.
These pests can also get in your home through cut plants or flowers. Sometimes, they can also enter your home by flying through windows from your garden.
Once inside, they will lay their eggs in various surfaces, and fabrics and the larvae will feed on them, causing damage overtime.
Where do carpet Beetles Live in your home?
Carpet beetles are often found in areas of the home that are dark and undisturbed, such as under furniture or behind baseboards or inside floor vents. They also live around the edges of rugs and carpet.
You can also find them beside the window sills and light fixtures. As soon as you notice them, you must remove them to avoid their infestation.
How to use steam to kill carpet beetles and their larvae?
As I've said earlier, steam cleaning is one of the most effective process to eliminate the infestation of carpet beetles. With a little effort, you can use steam to kill carpet beetles and keep your home free of these pesky pests.
However, finding the infested areas is the key to eliminating carpet beetles in your home. Once you find the source, follow the process below:
Start by vacuuming the surface:
Before applying steam over the affected areas, you should vacuum it thoroughly with a bagged vacuum. This will reduce the carpet beetles infestation. Since beetles like to live in darker areas so don't forget to vacuum those areas. For ex. Closets, cabinets, etc.
You should also vacuum fabrics that can't go into the washing machine, like- curtains, drapes, rugs etc.
After vacuuming, make sure to dispose the canister/vacuum bag in an outside trash can.
Steam Clean The Surfaces:
Now, you're ready to steam clean the targeted areas.
First, you''ll need to get a steam cleaner or a steam mop. These devices often equipped with multiple nozzle/brush attachments to steam clean your entire house.
Next, fill up the steam cleaner's tank according to the manufacturer recommendation.
Focus on areas where carpet beetles are likely to congregate, such as under furniture or in dark corners.
Slowly move the steamer nozzle over these areas, being careful not to stay in one spot for too long.
Repeat this process until the entire area has been treated.
After steam cleaning make sure to vacuum the entire area once again.
Use Dry Cleaning Process For Dry Clean Only Fabrics:
You can dry clean clothes that can't be steam cleaned. Dry them on high heat over 120F. The high temperature of the dryer will kill the adult carpet beetles hiding in the fabric.
Other natural insecticides that are also effective to kill carpet beetles:
You can also use some natural insecticides for removing the carpet beetles infestation. Those are safe for your kids and pets. In fact, they're easy to apply. Simply spray the insecticide around your carpet, rugs, and mattress.
You can either use them as spot cleaning or spray them over the entire carpet. Always read the manufacturer's guideline before using any insecticides. We also recommend to test a small amount of the spray in an inconspicuous areas of the carpet and rug.
Here's my favorite insecticide for carpet beetles:
Best Home Remedies to eliminate carpet beetles?
Using Apple cider vinegar:
Both white vinegar and apple cider vinegar are effective to remove carpet beetles and their larvae.
Especially, apple cider vinegar is a natural carpet beetle repellent. Simply mix equal parts apple cider vinegar and water in a spray bottle and spritz on any areas where carpet beetles or their larvae can be found.
Using Boric Acid:
Boric acid is a powder that can also be effective against carpet beetles. Just sprinkle it over the affected areas. Next, use a brush to distribute it evenly over the surface and let it sit there for a few hours. Lastly, vacuum the spot.
Essential oil:
If you're like me who don't like the vinegary or any acidic smell then you'll love this process. Essential oil is a cheap but effective natural home remedies for carpet beetles infestation.
You can use Lavender oil, eucalyptus oil, and peppermint oil to kill these pests and their larvae. Simply mix a few drops of the essential oil with distilled water in a spray bottle and spray the solution over the targeted areas.
How to prevent carpet beetles infestation in your home?
Carpet beetles are attracted to homes that are cluttered and dirty. Vacuum regularly and dust surfaces to remove any potential food sources (lint, hair, dead insects) for the insects.
Inspect any new furniture or carpeting before bringing it into your home. Carpet beetles can hitch a ride into your home on new furniture or carpeting. Inspect cut flowers for adult beetles before bringing them inside to prevent an infestation.
Wipe down your furniture and soft furnishings regularly.
Store clothing and other textile items in airtight containers. Before storing them make sure the item is pest free. Carpet beetles are attracted to clothing and other textile items.
If you suspect a large infestation of carpet beetles, then you must call a professional. They're well trained and well equipped to eliminate carpet beetles completely.
Frequently Asked Questions:
Are carpet beetles harmful?
Carpet beetles can be harmful to your home, and furniture if left untreated. They can damage fabrics, carpets, and other materials in your home. However, carpet beetles are not harmful for human.
Does carpet cleaning remove carpet beetles?
Yes, professional carpet cleaning will remove any carpet beetles that may be present in the carpets. Carpet beetles are attracted to dirty areas of a home, so keeping your carpets clean will help to discourage them from taking up residence.
Is Carpet beetle traps worth it?
There is no definitive answer, as the effectiveness of carpet beetle traps may vary depending on the specific type of trap and the individual situation.
However, in general, traps can be effective for capturing adult carpet beetles, and they may also help to monitor the population and infested areas of carpet beetles.
For the best result, you should vacuum and steam clean the suspected areas besides using traps.
Will vacuuming remove carpet beetles?
Yes, vacuuming can remove carpet beetles and other invasive insects from your home.
Can a clothes steamer kill carpet beetles?
Yes, a clothes steamer can kill carpet beetles. Carpet beetles are very sensitive to heat and will die when exposed to temperatures above 113 degrees Fahrenheit. The maximum steam output of an average clothes steamer is often above 200 F. So, it can easily kill any carpet beetles that come into contact.