Last Updated on September 13, 2023 by Erik Sullivan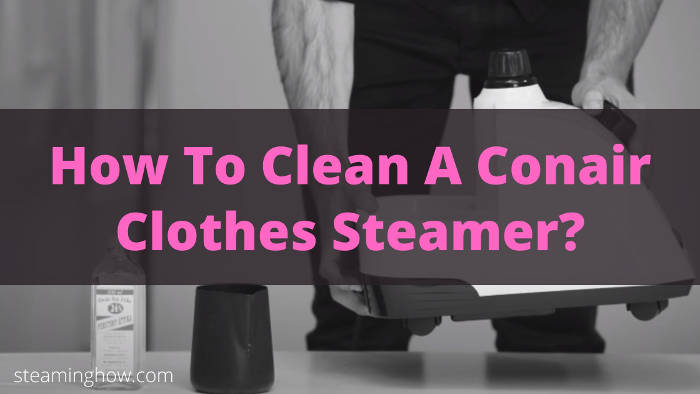 Have you found that there are white chalky stains on your clothing right after using a clothes steamer?
Or may be, your clothes steamer isn't producing steam.
Therefore, it's the high time to save your steamer as well as your clothing. To ensure optimum performance of your steamer, you should clean and maintain it properly.
In this article, I'm going to show you how to clean your Conair clothes steamer quickly and easily. I will also provide you some helpful tips to maintain your steamers so that they can last longer.
Why my steamer does not working efficiently and leave white residue in my cloth?
Well, this is a common problem of clothes steamer.
Over time, the water that you use to fill your steamer can leave behind residues of calcium and magnesium which gather in the tank/boiler.
When the steam has been used for a while, these residues form a coating that may reduce the efficiency of the steamer or even clog it. This residues also responsible for leaving white chalky stains in your cloth.
Therefore, it's very important to decalcify your clothes steamer. Which means, removing the calcium and magnesium build up from the steamers metal parts.
How To Clean Conair Steamer To Decalcify It Properly?
1. Cleaning A Conair Handheld Steamer
If you want to clean a Conair handheld garment steamer then follow this simple step by step process:
Things You Should Gather:
The Step by Step Process:
Step 1: Fill your steamer tank with 2/3 distilled water. You can find distilled water at most grocery stores.
Step 2: Add 1/3 of distilled white vinegar to the water. Vinegar is a natural descaling agent and will help to remove the calcium buildup from your steamer.
Step 3: Plug in the steamer and run it until the solution has steamed completely. The vinegar will help to blast away the mineral buildups and make it easier for the steamer to remove.
Step 4: Drain any vinegar remaining in the tank and rinse it out with clean water.
Step 5: Finally, fill the steamer tank again with distilled water and run it for 5-10 minutes to remove any residual vinegar and loose mineral deposits.
Step 6: Let the steamer cool down and air dry before using it in your garments.
Additional Steps:
If you still notice any reside in your clothes after steaming them, then you may need to disassemble the steamer parts to descale it completely. Read your steamers manual carefully before disassembling it.
You should closely inspect the steamer nozzle, gaskets, etc. If you see any build up in any of those items then, simply soak those items in warm vinegar for about 6 hours.
After that, rinse the items with hot water and dry them properly..
2. Cleaning A Conair Standing Garment Steamer To Remove Mineral Deposits
Cleaning The Tank:
First of all, you'll need to remove the water reservoir from the base and drain out the water or solution.
Next, fill up the tank with distilled white vinegar.
Put the tank back in the base.
Place the steamer unit in an open place (near of an electric socket). This could be your rooftop, yard, lawn, balcony. This is important because you'll be boiling only vinegar in the steamer, so it can stink.
Plug in the steamer and turn it on to produce steam.
Now, sit and wait for at least 30 minutes. Make sure to keep your kids and pets away from the steamer.
After 30 minutes, you'll notice that almost half of the vinegar has already evaporated.
Turn off the steamer and let it soak rest of the vinegar. Allow this for 30 minutes or so.
Take the steamer in your kitchen and drain out the vinegar.
After that, fill up the tank with distilled water and run your steamer again. This will remove the vinegar smell from the tank. (Repeat this process until the smell has gone completely)
Let the tank dry completely.
Cleaning the Hose:
Your Conair Standing steamer has an addition hose attachment that may get clogged up with some buildups. Therefore, you must clean it to remove the buildups.
Unplug your steamer and unscrew its hose. Follow the steamers manual to do it properly. Make sure to check your steamers model number.
Unscrew the drain plug to clean the inside of the machine with water.
Attach the female part of the hose to your sink faucet and run water thoroughly to flush out any buildups or chemicals.
After cleaning the hose let it dry before reattaching it to the steamer.
How to Decalcify a Conair Steamer Without Vinegar?
If you're looking for a way to clean your clothes steamer without resorting to vinegar, there are a few options available to you.
Using Lemon Juice:
The first thing that you can try as an alternative of using vinegar for removing limescale, is lemon juice. Lemon juice contains citric acid that dissolves calcium and magnesium buildup.
Simply mix equal parts lemon juice and water, and then use this mixture to clean the steamer's reservoir. (Follow the vinegar and water solution method above)
Using Commercial Descaling Solution:
Another effective way of removing buildups from your Conair steamer is using a descaling solution specifically designed for steamers.
These solutions are typically made from citric acid and can be found at most hardware stores. They are more effective than using vinegar or lemon juice to decalcify your steamer tank.
To use a descaling solution, simply follow the manufacturer's instructions and then use this solution to clean the steamer's reservoir. Here's the solution that I highly recommend.
Frequently Asked Questions:
What is the White Stuff in My Steamer?
The white stuff in your steamer is most likely mineral deposits from the water. Over time, these minerals can build up and create a thick, white residue. While this isn't harmful to your health, it can impact the quality of your steam and make it less effective.
Conair Steamer not Working?
There could be a few reasons why your Conair steamer is not working. First, make sure that the water tank is full and that there is no blockage in the steamer's nozzle.
Sometimes, this could happen if your steamer is clogged by mineral buildup inside the water tank.
If the problem persists, it may be due to a faulty heating element. With any appliance, it's always best to consult the user manual or contact customer service for troubleshooting assistance.
How Often Should You Clean Conair Steamer?
I recommend to clean and descale your steamer every 20 uses of the steamer. It is important to clean your Conair steamer on a regular basis. Depending on how often you use it, you may need to clean it weekly, biweekly, or monthly. If you use your steamer frequently, you may need to descale it every few months as well. This will help keep your steamer functioning properly and prevent any build-up of mineral deposits.
Can You Put Vinegar in a Handheld Steamer?
Yes, you can put vinegar in a handheld steamer. This will help to clean the steamer and remove any residue that may be present inside the tank. Vinegar is a natural disinfectant and it's safe for your steamer. To use vinegar in your handheld steamer, simply add a cup of vinegar to the water tank and run the steamer for about 30 minutes.
Related Posts: